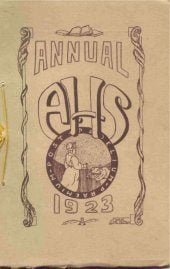 Published By The Senior Class of Adams High School
Nineteen Twenty-Three
---
We, the Senior Class of 1923 respectfully dedicate the Annual to our Preceptress,
FLORENCE J. KELLOGG
SENIOR ANNUAL PUBLISHED BY THE SENIORS OF THE ADAMS HIGH SCHOOL
| | |
| --- | --- |
| Editor | Calvin Maltby |
| Ass't Editors | Frances Smith, Neola Robbins |
| Business Mgr. | June Thomas |
| Advertising Mgr. | Hamilon Clarke |
| Ass'ts to Advt. Mgr. | Pauline Larkin, Wilson Curtis |
Cover Design and Sketches by Frank Springsteen
---
Faculty
For the Year 1922-1923
| | |
| --- | --- |
| Francis M. Carr | Principal |
| Floyd Barbur | Vice-Principal |
| Florence J. Kellogg | English |
| Hazel M. Snyder | English |
| Mrs. V. J. Ashbaugh | Commerical Dept. |
| Mrs. A. C. Grimshaw | Latin and French |
| Miss Ortance M. Lewis | Mathematics |
| Miss Mary H. Reed | History |
| Mrs. E. J. Campany | Drawing and Music |
| Elizabeth M. Dayton | Junior High School |
| Grace Waterbury | Sixth Grade |
| Miss Mary Allen | Fifth Grade |
| * Mrs. Lillian Tift | Fifth Grade |
| Mabel Pitkin | Fourth Grade |
| Mrs. Ildra Rawlings | Third Grade |
| Gertrude Dewey | Second Grade |
| Helen Hilton | First Grade |
| Mrs. Nina Stetson | First Grade |
* Employed in place of Miss Allen, resigned.
---
Adams High School Historical Sketch of A. H. S.
By Mrs. O. B. Rhodes
c. 1923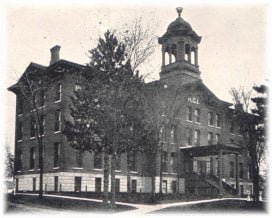 Principal F. M. Carr recently asked Mrs. O. B. Rhodes to give to the students a sketch of the history of our school. This sketch Mrs. Rhodes presented at the Friday morning exercises, February, 9. Feeling that the subject would be of general interest, we asked Mrs. Rhodes for the privilege of printing it and are indebted to her for the following article:
The disaster to Belleville Academy, which call forth a unanimous and very understand sympathy from the people of Adams, since our own school has twice had a similar experience, brought to light the fact that the young people of the present generation have very little opportunity to learn about and so to appreciate the work, the amount of money and the sacrifice which went into the founding of these schools. Assuming that an account of the early days of our school would be of interest to the students and to others, the writer has looked up the facts of its history.
It is perhaps a good thing for all of us, occasionally to stop and remind ourselves that the institutions which make a town worth living in, its schools and churches and useful organizations, whose benefits we often accept so carelessly, did not come by chance, but that somebody and probably many people at some time, put time and thought and money and hard work into the founding of them and are doing the same now to maintain them. It has always been true that the citizens of a community must make sacrifice not only for the present but for future generations if there is to be progress. this has been true in the history of our school, an outline of which follows:
Adams Collegiate Institute was incorporated by the Regents, April 22, 1855.

Before the school was fully organized, however, Gen. S. D. Hungerford offered to endow it in a substantial manner and the name was changed to Hungerford Collegiate Institute.

Under this name, an academic school was opened in a building known as the Basswood Hotel owned by General S. D. Hungerford, not far from the present railway station. On September 8, 1864, the school was opened with elaborate exercises, at which time General Joe Hooker of Civil War fame, made one of the speeches. Prof. J. D. Houghton, a man of experience and ability was engaged as a principal and Miss Emma Beebe, preceptress, and during the second year, Prof. David Hollbrook was elected vice-principal. Military drill was maintained in the school and several pupils were young men who returned to school after service in the Civil War. Ezra D. Hilts, who lost an arm in the conflict was looked upon as a hero.

Others who came from the war were Claude Ryder, Hiland Parker, Lewis R. Webber, Jerry Chrysler, Sidney clark and S. W. Frame.

On January 29, 1868, this building was burned to the ground. Five days later, a meeting of the trustees was held, when it was voted to erect another building immediately.

General Hungerford donated a new site, the citizens subscribed money most generously and the present building was erected, considered in those days very commodious and handsome, being large enough to accommodate 60 borders and 200 day pupils. The building was completed and the school opened August 28, 1870, with the following corps of teachers;

Albert B. Watkins, principal; Orlo B. Rhodes, vice-principal; Mrs. H. N. Butterworth, preceptress; Mrs. L. B. Woodard, English and mathematics; Miss L. Chatfield, painting and drawing; Mrs. A. B. Watkins, Spanish and English; Gustave Gunther, music.

The school was finely equipped, even manufacturing its own gas for lighting the building, and unusual luxury for a country town in those days. In fact, it seems that the trustees were so proud of the school and so anxious to have it thoroughly equipped that they did not use financial common sense, with the result that debts began to accumulate. It was mortgaged, and in 1882 the building was sold and the Cooper house, a brick hotel where the Dwight Block now stand was rented, and the school, including the boarding department was housed there quite comfortably.

The name of the school was changed to Adams Collegiate Institute by the Regent, Nov. 16, 1883 and in the following year, one of the most disastrous fires in the history of the village occurred, burning nearly the entire west side of Main street and taking the school building with it. Those who were students at the time recall the dismay which the people felt when they again saw their school building in ruins, just three days before the date for the opening of school in the fall.

They went to work however, as Belleville people are doing today and in a few days the school was housed in the Baptist and presbyterian churches and remained there nearly a year. The calamity proved a blessing in disguise however, for the trustees and citizens bestirred themselves, raised enough money to repurchase the building and after some difficulty again gained possession of the present building from which the school has never since been moved. Mr. and Mrs. D. A. Dwight should be mentioned as the largest givers at this time.

With the growth of the Public and Normal school systems however, came the decline of Academies throughout the state, and after making a brave struggle for existence, it was found that Adams Collegiate Institute, having practically no endowment, could no longer be maintained. Accordingly, in 1893, by popular vote it was leased for a High Echool (School).

To the High School was bequeathed thereby, a building, for which during its lifetime, it is estimated, that the citizens of Adams had paid more than $80,000 and it is well to remember that this was not raised by taxation but was voluntary giving. This amount in a town of 1500 inhabitants means no little self-sacrifice and enthusiasm for the cause of education and explains in some degree, the pride and love which those who gave so generously, felt for the school.

And what of even greater significance, the mother school bequeathed to the High School, a name which stood for honest work, true culture and sound character, giving it very honorable rank among the academies of the state.

It was fortunate in having, during its lifetime a number of teachers of unusual ability and culture who made and maintained for it an enviable reputation. They served their day and generation and served well.

The character of the alumni who have gone out from the school bear testimony to its worth and value.
This brief outline of the history of academic life in our town is written with the idea of showing to the students of our present splendid school that they have worthy ancestry, feeling sure also that the young people of Adams are just as much interested in the education of their young people as were those of a former generation and believing that teachers, pupils and citizens working together can make Adams High School second to none in the state.
---
Who's Who on the Hill
Kathyrn Reilly – Winner of Girls' Prize Speaking Contest at Adams.
Donald Carpenter – Winner of Boys' Prize Speaking Contest at Adams.
Wilson Curtis – Captain of Boys' Basketball.
Lewis Harwood – Captain of Baseball.
Donald Cornell – Captain of Football.
Margaret Cain – President of Callisophians.
John Hollis – Manager of Baseball Team, Cheerleader.
Calvin Maltby – Editor of Annual.
Adelieade Woodall – President of Junior Class.
Margaret Stuart – Salutatorian.
Angie Putnam – Valedictorian.
Alice Tabor – Winner of Fire Prevention Essay Contest.
John T. Manning – Winner of 2nd Prize in Speaking Contest at Adams.
Frances Hollis – Winner of 2nd Prize in Speaking Contest at Adams.
Hamilton Clark – President of Senior Class.
Irene Giddings – president of Sophomore Class
Addie Mae Graves – Cheer Leader of Sophomore Class.
Doris Carter – Manager of Girl's Basketball.
Stanley Bundy – Leader of School Orchestra.
Frances Smith – Assistant Editor of Annual.
Neola Robbins – Assistant Editor of Annual.
Stanley Hill – Manager of Boys' Basketball.
---
Senior Class of 1923
Class Motto: "After the Battle, the Reward." "Post Proelium Praemium."
Colors: Brown and Gold
Flower: Yellow Rose
OFFICERS
| | |
| --- | --- |
| Hamilton Clark | President |
| Neola Robbins | Vice-President |
| Frank Springsteen | Secretary |
| June Thomas | Treasurer |
| Wilson Curtis | Cheer Leader |
CLASS ROLL
| | |
| --- | --- |
| Hamilton Clark | Emma Enos |
| June Thomas | Carrie Williams |
| Alice Taber | Wilson Curtis |
| Neola Robbins | Calvin Maltby |
| Frances Smith | Angie Putnam |
| Ethel Patrick | Margaret Stewart |
| Leona Butler | Nellie Smith |
| Frank Springsteen | Helen Stewart |
| Muriel Washburn | Pauline Larkin |
| Marjorie Reed | Doris Carter |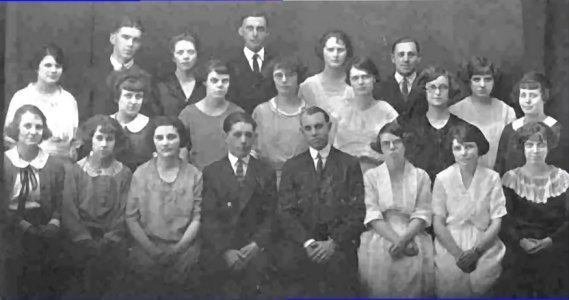 CLASS YELL: Hack-a-packa, hack-a-packa
Sis-boom-ba
Seniors, '23
Rah! Rah! Rah!
---
Salutatory Speech
as written by Margaret Stewart c. 1923
Ladies and Gentlemen:
The class of twenty-three bids you a cordial welcome. In behalf of the class, I wish to express our appreciation of your interest in us as shown by your assembling here tonight. Your coming here this evening is only one more proof of that interest which you have shown in us during our high-school.
This week represents the end of our high-school career. The exercises of tonight are the crowning event of our four year quest for knowledge. But though Adams High School has held us together as a unit here, it will do so no longer. After to-day we shall separate some of us to attend higher institutions of learning, some of us to go directly into the world to commence our life work at once, some of us to remain in the home and make it happier and more efficient by our presence.
But, wherever we go, the high school training we have received here should have fitted us for our work, whether in higher institutions of learning, in business, or in the home. We hope we have acquired here and adequate preparation for our work, whatever it may be. The knowledge which we have gained is very important; so too are the habits formed. All through the high school course we have been taught the power of concentration and how to obtain and keep this habit. Of no less importance is the practice of accuracy; without which virtue many of us would perhaps make serious mistakes. The habit is also one which we will find extremely necessary in whatever vocation we undertake. In the social life of the school we have learned to mingle with our fellow students easily and quickly. In the classrooms and in the social affairs we have been taught to give and take advice without becoming over sensitive, and this trait of character in a person is welcomed by everyone.
After to-day we will no longer act together as an organized class, for it will be well-nigh impossible for all of us to assemble here again. But even through this is true, none of us will ever forget or Alma Mater, never failing to honor and revere here as we should. We shall soon leave her as graduates and when we return, if we do, it will be as members of the alumni. As the latter we will attempt to re-live in our memories, that cling so grippingly to those joyous times, the glorious days spent here. We will remember happy experiences that have taken place here, and we will think of them, with joy that we at least had them, and with sorrow that we cannot be back here living through them once more. And so, where'er we meet, whene'er it be, we will greet our classmates and friends with joy and with a helping hand. Again dear friends of the Class of '23 bids you a cordial welcome.
---
Valedictory Speech
as written by Angie Althea Putnam c. 1923
To the friends gathered here, to the teachers who have be our guides, to the Board of Education, and to our fellow-students and classmates, it is my privilege to say farewell.Tonight, we the class of 1923, reach the goal for which we have been striving. This evening is the end of our high school career and the beginning of a new and entirely different sort of life. During our high school course we have had teachers to guide us and friends to advise us. But now we will have to think and act without the advice which has aided us so much. Our lives will be our own to direct and control, to develop or to restrict, to raise or lower. What has high school done for us if it has not, in addition to book knowledge, given us breadth of view, taught us to look at any problem from all angles, imparted to us high ideas and developed to some extent the desire and the determination to live up to these ideals? What has it done for us if it has not taught us to think and to act for ourselves? Without such training the course would have been useless. It has helped those of us who will go to study in other schools to do our best for them. It has taught us not to be discouraged if our first attempts are unsuccessful and it has taught us that the glory is not, indeed, in never falling, but in rising every time we fall.
We wish tonight to thank the Board of Education for their kindness. They have at all times shown the greatest consideration for our interests and have acted, whenever possible, for our advantage. Their interest in the welfare of the school and the cooperation with the faculty has made our work and play in Adams High School much more efficient, helpful, and enjoyable.
To the friends and townspeople we also wish to express our appreciation for what they have done for us in maintaining this building with the necessary equipment for this school. And we also appreciate the interest they have taken in our progress and in this, our final success. And as we are leaving this school to go to others of higher learning or to go forth at once into the world, we will not forget the many kindnesses they have shown us and the help they have tended us.
Especially to the faculty do we extend our sincere gratitude for their helpfulness and kindness during the years which we have spent as high school students. They have guided us successfully to this goal by their unceasing and diligent efforts and for this guidance we owe to them our undying appreciation. No words, I feel, can express or gratitude to them.
We realize also that we are about to leave our fellow-students, some of whom we have known all through our school lives, some of whom we have known but a few years, and some of who we have known only a few months. In saying farewell to you may we also wish you success in the future. We hope that you may be able to graduate from this school with honors, greater than any classes have yet received, and to raise the standards of the school higher than they have ever been raised before. We have tried to do this, but if we have failed in any aspect, we ask you to overlook it, and to double your own efforts because of it.
We part tonight with no feelings in our hearts save joy at our success and high hopes for the future. We feel that the friendships we have formed will last throughout the years. And now the class of 1923 bids you one and all farewell.
---
Advertisers in the 1923 Adams Annual
In order of Appearance:
The Northern New York Trust Company, Watertown, NY
The Watertown Savings Bank: Woolworth Bldg., Watertown, NY
Cahill's Sporting Goods, Woodruff Archway, Watertown, NY
H. L. Richmond – Dentist, Adams, NY
M. Flansburgh Variety Store, Adams, NY
A. H. Castor, Liberty Street, Adams, NY
Farm Operating Equipment, – W. A. Mather, 30 Railroad St., Adams, NY
O. D. Green, Adams, NY Phone: 1 : : : : :
William S. Rice, Inc., Adams, NY
Central City Business School: Peck-Wartner Bldg, 438 Salina St., Syracuse, NY
Cain & Patrick
W. A. Waite & Sons, Adams, NY
Good Things To Eat – Larkin & Toleman Proprietors
Herbert B. Gerow – The Insurance Man, Adams NY Phone: 182
Dodge Brothers Motor Vehicles – G. A. Chamberlain, Adams, NY
C. B. Grimshaw, Adams, NY Phone: House – 111 Store – 22
The Smart Shop, Adams, NY
Masonic Opera House, Adams, NY – C. M. Patten Mgr. Phone: 1500
P. J. Leonard I C. s. Agent 228 Woolworth Bldg., Watertown, NY
Aaron Belloff Department Store, Adams, NY Phone: 117F2
A. J. Pooler & Son Domestic Bakery, Adams, NY
C. H. Kenyon & Sons – Insurance, Adams, NY Phone: 53
Northern Business School, Smith Building, Watertown, NY
Scott & Whittier – Victor Victrolas and Edison Phonographs, Adams NY Phone: 63
Overland and Buick Motor Cars – Shelmidine & Moore Auto Co., Adams, NY Phone: 110
F. E. Wright & Co. Phone: Office – 98 Residence – 150
The Citizens Trust Company, Adams, NY 4 per cent. paid on Interest Deposits
Dr. H. E. Tyler – Dentist, Adams, NY
Gomer Davis, Adams Center, NY
F. A. Stell Clothing, Adams, NY
Snyder's Shoe Store
J. W. Hughes & Company Wholesale and Retail Grocers, Adams, NY
The Adams Book Store – R. S. Rhodes Phone: 5
Adams Coal Co. Branch at Henderson Harbor, NY
John Sinclair & Son Insurance
M. J. Maxwell Dealer in High Class Farm and Draught Horses
Preston & Dillabaugh, Adams, NY
Adams Electric Co., Adams, NY
Quality Clothes Shop – Henry H. Sias, Adams NY
Rochester Business Institute, 172 Clinton Avenue South
Corse Press, Sandy Creek, NY
Jefferson County Journal – W. J. Allen Publisher
D. Greenley & Sons Chevrolet Motor Cars, Adams, NY
Mather & Grow, Inc., Adams, NY
Weldon's cash Store
Giovo Bros. Fine Candies, Fruit and Ice Cream, Adams, NY
Hodge & Smith, Adams Center, NY
F. S. Lyman, Adams, NY
Huested's Studio, Adams, NY
A. L. Rice, Inc.
Adams High School – Opens Sept. 4, 1923
Edward W. Clark & Company – The Rexall Store, Adams, NY
Anson Zufelt Groceries and Fruits, Adams, NY Phone: 206
Farmers National Bank, Adams, NY
F. A. Empsall Co., Watertown, NY
James R. Miller Co, Watertown, NY