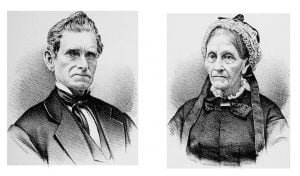 Anson Potter is an example of untiring industry, a pioneer of Hounsfield, and a present citizen of most honorable standing. Anson Potter has demonstrated qualities of high order and to acquire superiority in a chosen calling has put forth unremitted exertions. He was the second child in the family of John and Lydia (Holloway) Potter and was born in North Brookfield, Massachusetts, March 29, 1803. His father was a farmer of limited means and came with his family to Stowell's Corners in the town of Hounsfield in 1805; here he remained for several years and maintained his family by working as a day laborer. About 1808 he purchased 50 acres of land, which is a part of the farm now owned by his grandson, Newman H. Potter, for which he was to pay $5 per acre; here he struggled with poverty for a number of years, for the maintenance of his family, and the removal of the encumbrance upon his property was a severe task; but, being a man of indomitable will and perseverance, he overcame every obstacle, and to his first purchase added 100 acres, which is at this time one of the finest farms in the township. As may be supposed, our subject's advantages were limited in every particular, exception the acquirement of a robust construction and a pair of strong arms with which to fight the battles incident to the settlement of a new country. As soon as able to swing an axe, he commenced work upon the farm, attending the district school for a few weeks in the winter; he, however, acquired a good common school education. When about 19 years of age he commenced business for himself by taking jobs in clearing land, and being desirous of securing some one to share "his joys and sorrows," he made the acquaintance of Miss Abby M. Fall, whom he married September 26, 1826. Her father, Henry T. Fall, was an officer in the Revolutionary army and served during the war; soon after peace was declared he settled in Litchfield County where Mrs. Potter was born, April 11, 1802. In 1811, meeting with some reverses in business, he emigrated to the town of Rodman; he, however, ended his days in the town of Brownville at the advanced age of 96 years.
Soon after Mr. Potter's marriage he purchased about 100 acres of wild land on "big lot number 36," town of Hounsfield, for which he was to pay $5 per acre. His situation at the time was certainly not an enviable one, his resources being his wood wife, an axe, a pair of fustian breeches, an ox team, good health, and a strong will, while his liabilities were an encumbrance of $500 upon his farm. And now commenced the struggle for the possession of his home; the land was heavily timbered and the construction of a farm was no small task; but, by degrees, field after field was added, and industry and frugality were rewarded, and to the first purchase he added from time to time until he became the owner of over 1,000 acres of fine land, 700 of which was in one body and lay in the town of Hounsfield. This magnificent property was acquired, not through speculation or heirship, but by honorable toil, and Mr. Potter's success as a farmer shows what can be done by industry, economy and good executive ability. He now owns a beautiful farm of 200 acres, which is a monument to his thrift and energy. This farm is probably one of the best in Jefferson County.
Mr. and Mrs. Potter have been blessed with five children, named in the order of their ages:
Walter W., a farmer and a resident of Eaton County, Michigan.
Newman H., is one of Hounsfield's thrifty farmers, and did his country good service as sergeant of Co. K, 35th New York Infantry
Lorentine C., is the wife of Chauncey W. Bates of Polk City, Iowa.
Lydia M., is the wife of Harrison E. Spalsbury of Leonidas, Michigan.
Anson A, is living in Brownville
No family of children were ever blessed with parents more kind or indulgent and their parents are proud to know that they are fully appreciated. Although they have outlived their allotted time, they are still in the possession of good health and all their faculties and are sustained by an implicit religious faith, — that of the Presbyterian Church, of which he is a "ruling elder" and a liberal patron, and at whose altar they kneel, "humble recipients of its holy symbols." Mr. and Mrs. Potter are exemplars of "long lies well spent," and it is the wish of their many friends that many years may yet be granted them.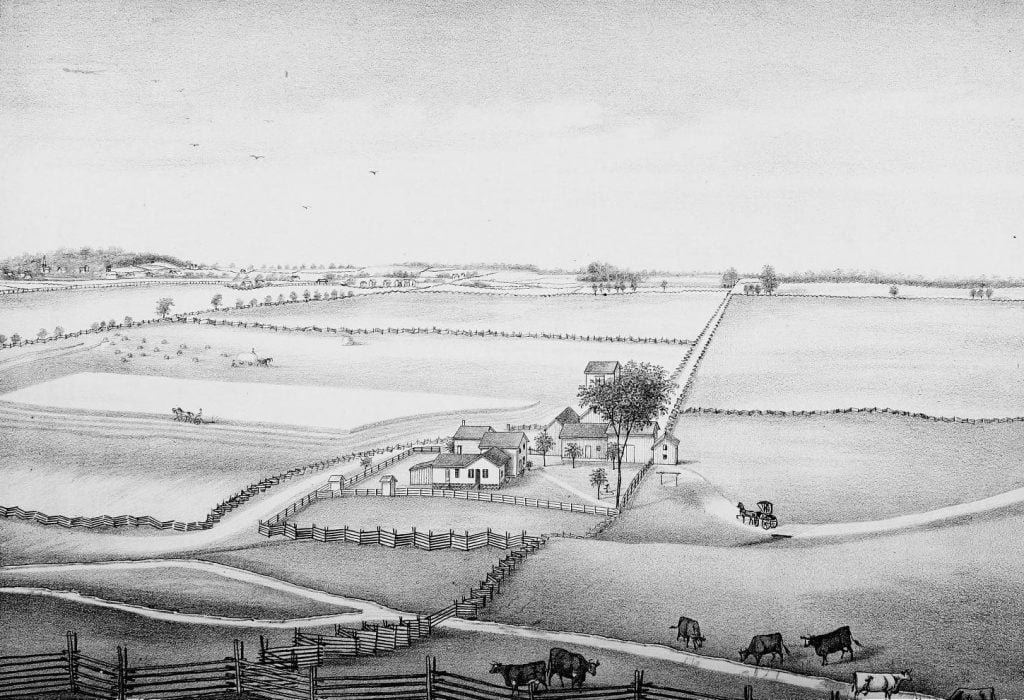 Source: Child, Hamilton. Geographical gazetteer of Jefferson county, N.Y., 1685-1890, part one, p. 303-304. Syracuse, N.Y.: The Syracuse journal company, printers and binders. 1890.