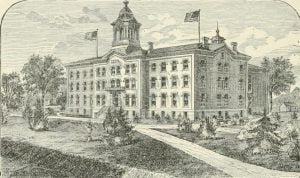 As early as 1802 a school was taught at Smith's Mills, which was attended by pupils living several miles around the place. A fair-sized two-story frame house was erected at an early day, and was used for school purposes until the wing of the present edifice was built. The old house was removed and transformed into a furniture-factory. In 1876 the site of the school-house was changed to a point east of the institute, and the present commodious structure erected at a cost of 14000. There are four well-arranged rooms, accommodating 200 pupils. The attendance in 1877 was 180, and 39 weeks' school was taught by C. D. Larkins and three assistants. The school is ungraded, but bears an excellent reputation for thoroughness in discipline and the branches taught.
A select school was taught in the old bank building by M. C. Manning, who afterwards became a distinguished Baptist clergyman, which was attended by a large number of the present business men of the village. Subsequently, Jason Marsh, now a citizen of Rockford, Illinois, and others, had charge of the school.
The "Adams Seminary" was established about 1838, as the result of an effort to locate a female seminary at this place. Judge Thomas C. Chittenden was one of the prime movers of that project. A small academic building was erected jointly by individual enterprise and the Universalists, who stipulated for the right to hold meetings in it on the Sabbath. Miss Willard, of Troy, was secured to take charge of the school, and conducted it successfully for several years. Subsequently it was opened to both sexes, and Ira Mayhew, afterwards superintendent of schools in Michigan, assumed the principal-ship. He was succeeded by Foster Montgomery, who shortly associated Prof Stevens with him, and the school remained under their control a number of years. After this the house was used for private schools, but has for many years been occupied as a session room by the Presbyterian society.