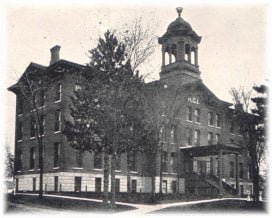 The following is a list of graduates from the Hungerford Collegiate Institute during the years of 1870 – 1899.
Class of 1870
Charles R. Babcock
Emma Whitcomb
Class of 1871
Austin Kent Hale
Isaac L. Hunt, Jr.
H. A. Merriam
H. R. Stafford
M. M. Williams
E. F. Whitcomb
Class of 1872
Frank D. Barbur
J. S. Clark
Ella Coughlan
D. L. Davis
C. H. Dilley
Henry Merrill
Charles S. Millington
Florence Peck
A. S. Potter
Miss Rasbach
K. T. Rhodes
I. M. Robinson
Mary Rounds
A. B. Stewart
Lizzie Stone
C. White
Class of 1873
Ella Bond
G. N. Budlong
Homer A. Cole
Jewett P. Cooper
N. A. Dilley
Augstine Fernandez
Donoso Gastiasoro
Leveritt T. Hughson
Robert B. Hungerford
A. Johnson
Anna Kellogg
Charles B. Kennedy
Vincent S. Lamb
J. R. Potter
DeForest F. Pruyne
Lafayette E. Pruyne
George W. Searles
G. P. Stone
Willam J. Walters
Carrie White
H. J. Witherstine
Class of 1874
Abby M. Bond
Nellie L. Bradish
William D. Garlock
James B. Kenyon
Lucy S. Lamson
Carrie P. Overton
Fannie E. Potter
Gertie M. Potter
Lizzie B. Rounds
Clara J. Schram
Ella M. Spicer
Henry C. White
Henry R. Williams
Class of 1875
Fred H. Angle
Mary C. Brown
Homer A. Cole
David D. Demarest
Fred C. Eddy
Stephen O. Edwards
Robert E. Gregg, Jr.
Winfield s. Hall
Dayan A. Hill
Mattie E. Jacobs
Julia M. Joslyn
Kattie Kennedy
Charles D. Larkins
Jefferson McCoy
Luther Mesick
Rufino Olivera
Arthur M. Park
William K. Potter
Clara Rasey
Mary C. Rees
Antonio Squrez
Carrie White
Class of 1876
William A. Aubrey
Lillie D. Bond
Frank R. Bradt
Talcott C. Dempsey
Ella M. Dwight
Charles A. Gordinier
Etta M. Grant
Ida L. Hawes
Roscoe N. Jackson
Lucy A. Johnston
charles D. Larkins
D. Frank Lloyd
E. Gerry Miner
Mary M. Mitchell
Lucius W. Moody
Charles E. Rasey
Albert F. Saunders
Thomas F. Saunders
Nellie E. Stearne
Frank J. Thomas
Minnie E. Withington
Class of 1877
C. H. Browne
C. B. Conrad
John D. Hagan
Leila A. Holley
F. T. Holmes
Jennie M. Rees
Sybella White
Class of 1878
Arthur P. Brown
Alma A. Cromwell
C. A. Donnelly
Linnie Emmons
Myra Everest
Mary Hawes
Homer H. Hitchcock
Mattie Horth
Fannie Hunt
Edward S. Hunt
Walter Johnson
Jennie Lamson
Belle Lovelee
Jennie Lyons
Jennie McCue
Kittie Simpson
Alice C. Smith
M. L. Vail
C. F. Walters
Lillie Whipple
F. G. Williams
Hattie Woodward
W. H. Woodward
Class of 1879
Darwin S. Barrett
George Bullard
George L. Brown
Nora C. Carpenter
Charles A. Donnelly
Enos E. Eastman
Nellie M. Eldridge
John B. Gove
Mary Ann Gregg
Selah W. Hallenbeck
George D. Hamlin
Roswell H. King
Jennie L. Lamson
Jay J. Makepeace
Ella L. Mull
Emma J. Redway
Eri P. Rice
Clara F. Tucker
J. Isaac VanDoren
Charles M. Tyler
Robert D. Wardwell
Class of 1880
J. Alexander Adair
Susie Ayers
Darwin S. Barrett
Miss Bemis
Robert Boyd
Juan Brin
Ina M. Carter
Florence E. Cooley
Carrie R. Fisher
Hannah Greene
Mattie Horth
Dwight L. Hubbard
Enrique Kinney
Belle P. Lovelee
William T. Ormiston
Julia W. Snow
Carrie W. Stanley
Mamie C. Strong
Miss Strough
Eva Tarble
Belle Thomas
Cora Tomlinson
Nina Vickery
Eva Watkins
Lillie R. Whipple
Class of 1881
Carrie E. Arms
Jennie Barney
Elizabeth Bemis
Belle Bragdon
Willis A. Brundidge
Eliot E. Cheeseman
Richard Cummings
John M. Eastman
Willard L. Fish
Lettie Goss
Marian E. Griswold
Henry C. Grinnell
Frank S. Kenyon
Fred Lane
Fred H. Lovelee
Frank D. Lowe
George P. Manville
Samuel L. Newton
Eben M. Ramsey
Lena Tomlinson
Nina Vickery
Class of 1882
Herry A. Allis
Darsin S. Barrett
Lena R. Bassett
Elizabeth Bemis
George G. Brower
Fred W. Brown
Chauncey E. Buell
Seward D. Burlingame
Charles K. Burdick
Elton E. Coon
Handley V. Foote
E. Willie Fox
Charles M. Farlinger
Mina Haydn
E. V. Irvine
Maggie B. Laird
Minnie E. Membrey
Frank W. Merrick
Mary M. Mitchell
Darwin P. Mitchell
Carroe P. Overton
J. Floyd Peck
Ora D. Shelmidine
Charles E. Spicer
Eva Tarbell
Cora Tomlinson
Edward J. Willis
Class of 1883
W. Gordon Bentley
Wayne Fox
John D. Hagan
William D. Hartman
Fred R. Huntington
Bryant Lawrence
Lawrence D. Norton
Kitty M. Pease
John G. Peck
Fred B. Pitcher
Susie Quinn
Minnie K. Remington
William R. Roach
Isaac L. Saunders
William R. Strickland
Claude L. Tucker
Fred B. Waite
Herbert H. Waite
Wilbur F. Walker
Will Warriner
Jesse Watkins
Eugene Whiting
Orlando Wilcox, Jr.
Class of 1884
Eaton A. Bishop
Willis Blair, Jr.
Arthur H. Burlingame
Ina M. Carter
Fred Chalmers
Leon L. Cornell
Elena F. Edwards
Mary E. Fuller
Franc J. Hagan
George B. Holmes
Henry C. King
Sherman S. Newton
Helen Pierce
Fred B. Pitcher
Lizzie Roach
Kate I. Schram
Vick J. Thomas
Jennie Tifft
Kittle A. Totman
Wilbur F. Walker
Eva M. Watkins
William E. Wood
Class of 1885
Belle Carter
Harriet Caulkins
Eva Coughlan
John M. Eastman
Mary Fuller
Delia Hart
Frank S. Kenyon
Anna Lester
Frank McClary
Beatrice Muir
Frances R. Stanley
Julia Thompson
Eva M. Watkins
Jesse M. Watkins
Della F. Withington
Class of 1886
Nellie D. Abbott
George L. Arms
Amanda Bishop
Emma Brown
Charles S. Brown
Seward D. Burlingame
Libbie C. Crittenton
Melvin G. Dodge
Angie B. Eastman
Nellie E. Fuller
Albion A. Hughes
Stella Kellogg
Mary Kenyon
Jerome E. Lewis
Julia A. Monroe
Carlisle C. Nott
Hugh S. Patrick
Blanche Pruyne
M. Blanche Reed
Charles E. Ripley
Marian VanVolkenburg
Frank G. Willis
Class of 1887
Flora E. Cooley
Will A. Casler
Fred S. Daily
Alice Woodward Daily
Nettie L. Dodge
Howard D. Eveleigh
Anna Gates
Orange D. Greene, Jr.
Ardelia Holley
Albert M. Judd
Benjamin Jackman
Thomas A. Kenyon
Nellie E. Lewis
Ellis S. McCumber
Menzo D. McCumber
Grace A. Metcalf
Dora L. Norton
Amy M. Payne
Myrtie D. Penney
Theresa E. Ralph
John S. Redway
Jennie Raoch
Freelove Starring
Lottie E. Tousley
Class of 1888
Belle Carter
Viola J. Campbell
Frank Chandler
Lillian Charters
Grant W. Davis
Harold S. Gates
Bennie M. Greene
George B. Grimshaw
Lincoln B. Irwin
Charles H. Kenyon
Elta H. Miller
Stephen A. Moore
Theresa E. Ralph
Raymond G. Smith
Beulah A. Spicer
Mary E. VanDoren
Walter N. VanDoren
Gary M. Vroman
Birdia I. Wetmore
Class of 1889
Floyd H. Bassett
Charles J. Cady
George H. Converse
Gertrude A. Crittenton
Jennie J. Gardner
Grace L. Greene
Anna L. Hagan
Gertrude Haydn
Lucien G. Johnson
Florence Kellogg
Jennie Munson
Clarence L. Peaslee
Lena Rich
Etta Stillman
Harold Tomlinson
Herbert C. Wodell
Class of 1890
Clayton S. Cooper
Jay S. Fox
Milton E. Gregg
Rosa a. Griggs
Kate C. Hall
George Hart
Lillian H. Lamson
Myrtie E. Rhodes
Mary Ripley
Bert S. Robbins
Charles G. Wilcox
Class of 1891
Edwina H. Barney
Statie E. Bemis
Ora H. Cornwell
Clarence E. Cowles
Viola A. Davis
Fred DeLaFleur
Eugene Devendorf
William S. Flint
Louis L. Gardner
Amelia M. Goss
Florence A. Graves
Benjamin M. Greene
Glenn S. Hall
Sheridan Hart
Jesse Hawes
Ethel A. Haydn
Daniel B. Huson
Frederick E. Isham
Harriet L. Knapp
Lillian H. Lamson
Carlton McCumber
Fred B. Mitchell
Ada C. Myers
Arthur J. Norton
Beulah B. Pelsue
John B. Pitcher
Fred P. Smart
Nellie Strickland
Musette Taylor
Robert H. Waite
Bertha W. Williams
Maggie L. Williams
Marcus Wolf
Nicholas Yost
Class of 1892
Edwina Barney
Hattie M. Brainard
Bertha F. Bull
Carrie M. Comins
George R. Coughlin
Clara A. Davis
Fay S. Dean
Gilbert H. Fox
Henry C. Glass
Sheridan Hart
Albert W. Hakes
Ethel A. Haydn
Jessie L. Ivory
Bertha A. Kenyon
E. Bersie Lee
Arthur B. Peaslee
Ruth A. Redway
Ross C. Rich
Grace Stillman
Birdie B. Totman
Caddie Totman
George B. VanDoren
Joseph C. VanDoren
Leon A. Williams
Class of 1893
Clara M. Bemis
Statie E. Bemis
Christie Brown
Hattie M. Brainard
Walter M. Clark
George R. Coughlin
Nellie J. Graves
Glenora Green
Theodore Haydn
Dewey H. Hurd
Anna M. Larned
Clarence A. Larned
Eva Lyman
Holly W. Maxson
Grace J. Owen
Lulu M. Pitkin
Alfred C. Prestice
Harry W. Prentice
Angie C. Russell
Archie C. Ryder
Laura E. Thomas
Jessie Welch
Arthur B. Williams
Chester C. Williams
Class of 1894
Edward W. Clark
Olin D. Eveleigh
Mabel E. Gardiner
Edith A. Gardiner
S. Freeman Graves
James M. Greene
Frank A. Heyl
Grant W. Humes
Dewey H. Hurd
Manford M. Jenkins
Grance E. Kenyon
Norton J. Lamson
Lucy Miller Parker
Archie L. Ryder
Hiram D. Tucker
Chester C. Williams
Florence S. York
Class of 1895
Jennie Arnold
Samuel F. Bates
Jesse O. Brundidge
Harry W. Hannahs
Theodore Haydn
Fred L. Jones
Alice C. Pickering
Maude J. Stafford
Laura E. Thomas
Arthur B. Williams
Class of 1896
Dora Allen
Earl S. Augsburg
Earl A. Averill
Bertha Waite Averill
Lena Bailey
Menzo G. Clark
E. Pearl Gero
Janie B. Greene
Hattie Grimshaw
Laura Huson
Albert S. Penney
May L. Perkins
Edna M. Plumb
Alice Ripley
Charles K. Stone
Class of 1897
Ernest A. Barbur
John C. Hayes
Laura Huson
Bert V. Lyman
Albert Penney
Merritt F. Phillips
Martha Randall
Harley L. Whipple
Class of 1898
Edna F. Allen
Florence E. Coper
Bess A. Landon
Giles L. Marsh
Clifton McCumber
Murray C. Porter
Martha E. Randall
Rufus W. Ripley
William A. Roach
Class of 1899
Effie M. Enos
Marguerite Hart
John A. Whiting
Elsie A. Fox
Sara E. Gardner
Fred A. Grant
Maude B. McCumber
Mabel R. Seaton
Arthur C. Parker
Albert F. Saunders
Herbert C. Wodell