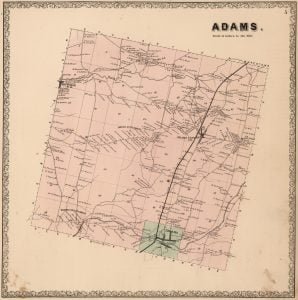 Among those who came at an early day to this locality is Roger Read, from Vermont, in 1806. He was a well-own citizen, and reared three sons who became identified with the interests of Jefferson County. Asahel Read, now an aged man, resides at Watertown; Heman Colton, then a young man of 19, came from Otsego county and opened a large farm here. He still lives in the town, being almost a centenarian, and a son, Chauncey, resides on the homestead, further west lived Benjamin Sweet and Albert Rice, both prominent in their respective neighborhoods. A grist-mill was erected on Stony creek, in this neighborhood, prior to 1812, by a man named Waddell. Willet Ranney was the miller for many years, but sold his interest to E. & A. Read, who, in turn, sold to Samuel Cook. He improved the dam and built a new mill opposite the old one, in 1828, calling it the "North Adams Pioneer Mills," by which name it is yet known. It is a two-story frame, with three runs of stone, and remains unchanged in most respects. About 1836, James Moulton became the owner of this property, and the title still vests in his heirs. Sawmills were built above this point: one by Heman Colton, which was operated fifteen years; one by Philo Ellenwood, which was destroyed by fire, rebuilt by him, and sold, in 1867, to James Hodge, who moved it to the east branch, where it is at present operated by him; and near the same point a turning-mill, with a corn-grinder attached, was built and operated a number of years by Richard Oatman. Below the "Pioneer Mills" Gideon Gifford put up a saw-mill, in 1830, which was operated until it was burned down, in 1847.
The North Adams post-office was established about 1845, on the mail-route from Watertown to Salisbury's Mills, and Benjamin Sweet was appointed postmaster. A short time after the office was given to Albert Rice, who moved it to his house, where it remained until 1862, when William Stanley was appointed. It was soon after discontinued.
Source:  Durant, Samuel W. and Henry B. Peirce. History of Jefferson County, New York, With Illustrations and Biographical Sketches of Some of its Prominent Men and Pioneers. Philadelphia: L.H. Everts & Co., 1878. p 247.