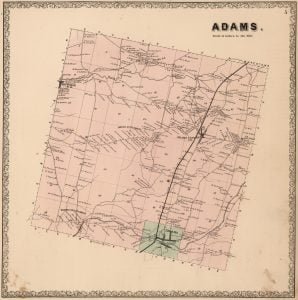 The ancestry of the numerous Greene families, now residing in Adams, whose members number more than three hundred, belonged to Rhode Island, where one of them, Charles Greene, served during the Revolution, and afterwards removed to Rensselaer co., N. Y. Here he reared a family, which, in 1805, immigrated to Lewis co., and in 1810 several of them became citizens of Adams, at a place which has since borne their name. Of the elder Greenes, Charles was prominent in securing the settlement of a large number of his friends from the eastern part of the State, he served as an agent for Bostwick, of Lowille, in settling land. He is still living in the town, at the advanced age of 99 years. A son, Leander R., and a number of grandsons, Paul, Jr., De Estaing, De Forrest, and De Grasse Greene, are well-known and useful citizens, yet living in or near the settlement.
North of Greene's lived a well-known surveyor, Capt. Sills, and Baxter Adams, also a prominent man, and both early settlers.
A blacksmith-shop was opened at this place many years ago by Joshua Clark, which was remodeled for a store-room, and a stock of goods kept a short time by Samuel Marot and Lorenzo Rhodes. Charles Greene and Samuel Crosby built a saw-mill, on the brook flowing through the settlement, about 1835. The present mill is operated in part by steam-power, and is complete in its arrangements. It is owned by Whitford & Brown.
The first school at Greene's was taught in a small frame house about 1815. For many years it stood upon the hill north of the main settlement, so as to accommodate the pupils from the Sills' neighborhood. Afterwards it was removed and changed to a dwelling for Dewey Bell. The cemetery is under the management of the people residing its immediate vicinity.
Source:  Durant, Samuel W. and Henry B. Peirce. History of Jefferson County, New York, With Illustrations and Biographical Sketches of Some of its Prominent Men and Pioneers. Philadelphia: L.H. Everts & Co., 1878. p 247.