Plessis is a neat village situated midway on the old Alexandria and Theresa plank-road, three miles from Redwood. It derived its name from a place in France. It is familiarly known as Flat Rock, from the prevalence of the Potsdam sand-stone formation in the vicinity, which presents a considerable surface of naked rock. In 1817, Mr. Le Ray erected a grist-mill on Plessis creek at this place, which, having been purchased by Jason Clark and William Shurtleff, was in 1830 rebuilt.
The first store was opened by Lull and Walton in 1820; but the place increased very slowly, and ten years after contained but four families. Among the earliest settlers there were Jason Clark, William Shurtleff, William Merrill, James Carter, William Tanner, and others.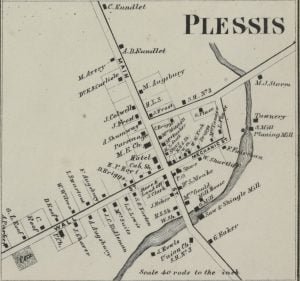 The first log house was erected by William Merrill, in 1818, and was afterwards by him converted into an inn. Here, in 1826, he was murdered by one John Powell, who was sentenced to fourteen years' imprisonment for the crime. The elder Dr. Trowbridge, of Watertown, attended the victim, and Mr. James Carter avers that he "did some pretty good trepanning." But Mr. Merrill was beyond medical skill. He was a peaceable man, and one of the constituent members of the Presbyterian church at Plessis. The first frame house was erected by William Tanner, and was used by him as a dwelling and store, — the first in the village. The old building still stands, and is owned by Peter Tassey, Esq., of Redwood, and occupied by his sons.
The first church edifice was the Union building, erected in 1833 by the several denominations then represented in the place.
A tannery was erected near the village on Plessis creek in 1821, by James Carter. A school-house was built in 1826, after the formation of the districts.
The village now contains 3 general, one grocery, and 2 millinery-stores, an undertaker's-shop, 2 wagon-shops, 2 blacksmiths, 1 saw-mill, 2 grist-mills, 1 cooper's-shop, 2 shoe-shops. It has 3 churches, — one each of the Presbyterian, Methodist Episcopal, and Protestant Methodist denominations,— a public school, a resident physician, burying-ground, 1 resident minister. It is a post village; the first postmaster was Jason Clark; the present incumbent is Wesley Crandall. The population is estimated at 300. Dr. Amos M. Dunton was an early and prominent medical practitioner of this village. After practicing there many years he removed to Beaver Dam, Wisconsin, where he died April 24, 1867.
Source:  Durant, Samuel W. and Henry B. Peirce. History of Jefferson County, New York, With Illustrations and Biographical Sketches of Some of its Prominent Men and Pioneers. Philadelphia: L.H. Everts & Co., 1878. p 270-271.