The Camp family is of English origin, and bore its coat of arms as early as 1597, in the reign of Queen Elizabeth. The founder of the American branch of the family was Nicholas Camp, who immigrated in 1630. Its representatives in Jefferson county have been among the most intelligent, upright and useful citizens. Their American ancestors have distinguished themselves in civic affairs and in the war for independence. Among these, the names of Camp, Hale, Hitchcock, Hull and Talcott are the most prominent.
(I) Nicholas Camp is found of record at Milford, Connecticut, in 1639 and at Wethersfield in 1646.
(II) John, son of Nicholas Camp, was of Hartford, and was born in 1639, and died in 1710. He had four sons and a like number of daughters.
(III) John Camp, second child and eldest son of John Camp (1), lived from 1675 to 1747, and had six children.
(IV) John Camp, son of John Camp (2), outlived five wives and died at the age of eighty-four years, leaving three sons.
(V) Elnathan Camp, second son of John Camp (3), died in 1807. He married Eunice Talcott, who lived from 1736 to 1804, and they had four sons and three daughters. Elnathan Camp was a captain and quartermaster in the continental army.
(VI) Talcott Camp, eldest son of Elnathan Camp, was born in 1762, and died in 1832. He was nineteen years old, and a student at Yale when he left college and accompanied his father to the field, and was an active member of the Durham (Connecticut) Company and a commissary officer. He was one of the pioneers of Utica, New York, where he settled in 1798. He was chosen president of the village upon its settlement, and continued as such until its incorporation, in 1809, and served the first three years as president of the incorporated village. He made the long journey on horseback to Fort Washington (now Cincinnati, Ohio), to locate land warrants granted for Revolutionary war service. The property thus located became valuable, but he lost most of his revenue from it through the dishonesty of a trusted agent there. His death was caused by cholera, which he contracted while heroically caring for victims of the dreadful pestilence. He was a gentleman of the old regime, and was held in high regard by many of the heroes of the war for independence, among his warmest friends being the famous sea captain, John Paul Jones. His wife, Nancy, was a daughter of Captain Jonathan Hale, who lost his life at Jamaica Plains, while on the way to the battle of Bunker Hill. Talcott and Nancy Camp had nine children.
George Camp Family
(VII) George Camp, son of Talcott and Nancy (Hale) Camp, was born in the historic town of Glastonbury, Connecticut, August 8, 1790. In the winter of 1816-17 he came to Sacketts Harbor, where he set up the first printing press and issued the first newspaper in the village and one which was noted in its day as a warm champion of Federalist doctrine, and at the same time as a vigorous exponent of local interests. His wife, Elizabeth Hitchcock, daughter of Eliakim Hitchcock, a native of Connecticut, was reared in Utica, New York. She was a devout Christian, and active in church work. Elizabeth Camp was the mother of three sons — Talcott H., deceased, who was for forty years president of the Jefferson County Bank ; George Hull Camp, who became a prominent manufacturer, and now resides in Marietta, Georgia; and Colonel Walter B. Camp.
Talcott Hale Camp Family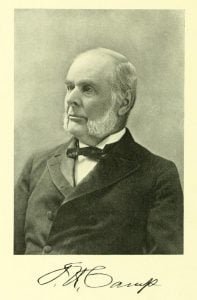 (VIII) Talcott Hale Camp, of Watertown, now deceased, son of George and Elizabeth Camp, was for about a half century actively identified with the city, to which he afforded his aid in the inauguration. and conduct of many enterprises of enduring worth.
Mr. Camp was born in Utica, New York, January 17, 18 16. He came of vigorous stock, and was so well preserved that when nearly eighty years of age he bore himself, in action and appearance, as though he were not more than sixty. While he was an infant, his father removed to Sacketts Harbor, and there the child was reared and educated — Attaining his majority, his ambition would not permit him to remain in that place, whose business was declining, and, seeking a more promising field elsewhere, he eventually decided upon Watertown, where he located early in 1840. He at once opened a drug and paint store in rooms in the Paddock block, opposite the public square, and his business steadily developing brought him considerable means, which he used to excellent advantage by judicious investments. This business ultimately came to the hands of Camp & Massey, the members of which firm were Mr. Camp's son, Walter H. Camp, and George B. Massey.
From the time of his coming to Watertown until shortly before his death, Mr. Camp was numbered among the most enterprising promoters of community interests. He was among the earliest advocates of the railroad between Rome and Cape Vincent, and afforded to the project his intelligent service during many years. An aider in its building, in face of what at times appeared to be insurmountable obstacles, he never lost faith, and the successful consummation of the movement was largely due to his indomitable perseverance and determination. In 1863 he was elected to the directorate, and his term of service continued during the long period of twenty-five years, including seven years in the capacity of vice-president. The principal offices of the company were located in Watertown, and the financial affairs were committed in large degree to his care, and were administered with such masterly ability as to meet the cordial approval of all concerned. Mr. Camp was also for several years one of the trustees of the Watertown Steam Engine Company, which during his time and largely through his instrumentality grew into a mammoth establishment, one of the most important of its kind in the United States. He was also interested in various other manufacturing enterprises, and in the principal financial institutions in the city. For about thirty years he was a member of the board of trustees of the Jefferson County Savings Bank, and for several years before his death he was. its president. This institution is notable for the fact that every member of the board of directors served without compensation, their only purpose being to provide a safe repository for the funds of depositors, with special reference to the needs of wage earners, many of whom derived their livelihood from the shops in which Mr. Camp was interested as officer or stockholder. He had also been president of the Jefferson County Bank since 1856, and he ever cherished a peculiar pride in it for its remarkable history and unshaken stability. It had been removed from Adams to Watertown as long ago as 1821, and in all its long career had never closed its doors for a single business day, and had safely withstood all panics, never failing to meet its obligations.
From the time of his taking up his residence in Watertown, Mr. Camp had been a member of the First Presbyterian church, and a liberal contributor to its support and to the maintenance of its various objects of beneficence. Principal among these was the Black River Literary and Religious Institute, which was established under Presbyterian and Congregational auspices in 1837, for the purpose of affording academical advantages to the youth of both sexes, and for more than forty years Mr. Camp was an earnest and useful member of its board of trustees, and aided generously in its support. He was averse to political concerns, in the sense that he would not consent to become a candidate for public position. He was, however, a citizen in the best sense of the word, and afforded a potent influence to the support of such measures and men as were approved by his conscience. In his personal life he was an ideal Christian gentleman, ever ready to meet the deserving poor and distressed with words of aid and encouragement, and such substantial assistance as the case might demand.
Mr. Camp was married, June 3, 1847, to Miss Ann Elizabeth Sewall, daughter of Henry D. Sewall. Mr. Sewall was a highly educated gentleman of the old school, who came to Watertown shortly after 1830, and became known as one of its most progressive citizens, becoming interested in various textile fabric manufacturing establishments. His home on Sewall's Island was noted for its hospitality, as he and his family were for their unaffected gentility and unusual intelligence.
To Mr. and Mrs. Camp were born three sons: Fred Sewall, a cotton manufacturer in Norwich, Connecticut; Walter Hale Camp, long senior member of the firm of Camp & Massey, of Watertown, and George Van Santvoord Camp, both of the Jefferson County National Bank, Watertown. The mother of this family died on her forty-first wedding anniversary, June 3, 1888. Mr. Camp passed away February 7, 1897, and a general expression of the community voiced deep regret at his departure.
He was an aid to many individually, "a friend in need," a consoler in time of trouble and a ready helper in every worthy enterprise.
Walter Bicker Camp Family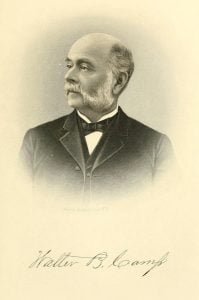 (VIII) Walter Bicker Camp, third son of George and Elizabeth (Hitchcock) Camp, was born October 1, 1822, at Sacketts Harbor. He there received a liberal academical education, and in his school days acquired a thirst for knowledge which made him an industrious student and a keen observer throughout his busy and eventful life. It is, how-ever, with his services in advancing community interests that we are principally interested. His loyalty to his native village, and his desire to promote its importance, amounted almost to a passion. The construction of the first railway, that from Sacketts Harbor to Pierrepont Manor, enlisted his earnest endeavor. He was a liberal contributor to the construction fund, and for two years acted in the capacity of custodian and local director, and with an altogether disinterested spirit, as will presently be seen.
His services during the Civil war were of great usefulness. Shortly after the outbreak of the Rebellion (October 17, 1861) he was chosen by Governor Morgan to command the military depot at Madison Barracks, Sacketts Harbor, and was commissioned as colonel upon the gubernatorial staff. The appointment came unsolicited, and was at first regarded by many as little more than complimentary, but, as it transpired, it carried with it duties of a most arduous character. Taking charge immediately, Colonel Camp made a firm establishment for the depot, organizing it upon such a basis as to make it an active center for recruiting and regimental organizations during the entire progress of the war. He had one company prepared for. duty at the front in the first twenty-four hours, and in eighteen days the Ninety-fourth Regiment New York Volunteers had completed its organization. On March 14, 1862, it was transported to Albany, Colonel Camp accompanying it. It was received with high pleasure by Governor Morgan, who made a call upon Colonel Camp, and paid him a high compliment, praising the regiment for its personnel and discipline, and expressing gratification that it had been recruited at an expense less by $20,000 than any similar body in the state, and that (unlike some others) instead of losing nearly thirty men, it showed a gain of two on leaving camp. Among other notable commands organized at Sacketts Harbor was the Tenth Regiment Heavy Artillery, New York Volunteers, in which Colonel Camp took a deep interest, and was instrumental, as war committee for the town of Hounsfield, in filling. After the war General William T. Sherman, then commanding the army, was disposed to abolish the post on account of the want of railway facilities for the transportation of troops. Colonel Camp was untiring in his efforts to prevent the abandonment of the depot, and at once set to work to secure the extension of the Utica & Black River Railroad to Sacketts Harbor. To this end he enlisted the interest of the towns on the projected route, and in 1873 the road was completed. During and after this period, various serious obstacles were encountered, but all were happily overcome. At one time, during the occupancy of the barracks under General Ayers, the north half of the officers' quarters was burned. General Sherman opposed an outlay for their rebuilding, but Colonel Camp enlisted the aid of Congressman Bagley, and a congressional appropriation of $35,000 was secured and the loss was replaced. Again, Colonel Camp presented to President Grant the desirability of maintaining the post, and the influence of that distinguished man worked a great change. Shortly afterward, General Sherman visited the post, with the Twelfth Regiment United States Infantry, under General O. B. Wilcox, and he expressed himself as highly gratified with the site and with its buildings,, and from that time Madison Barracks were well maintained, becoming among the most complete and desirable military reservations in the country. In the accomplishment of the result, so dear to his heart, Colonel Camp was ever able to enlist the sympathy and influence of distinguished military and naval officers who, with him, appreciated not only the desirability of the situation for military reasons, but also out of sentimental considerations relating to its earlier civil and military history.
Colonel Camp has otherwise been constantly industrious and signally successful in preserving the prestige of the historic locality of Sacketts Harbor. With others who cherished similar desires to his own, he aided, in 1885, in the formation of the Jefferson County Historical Society. He was then executor of the estate of the late Elisha Camp, from whose heirs he procured a deed of gift conveying to the society named and to the village of Sacketts Harbor, jointly, the old battle ground made famous during the war with Great Britain of 1812. This tract, comprising several acres fronting on Black River bay, and upon which the re-mains of the ancient entrenchments are yet discernible, was dedicated the same year, with imposing ceremonies, under tire auspices of the Jefferson County Historical Society, and with a splendid company of participants, including the Twelfth Regiment, United States Infantry, the Sacketts Harbor Grand Army post, the civil authorities of the county and village, and representatives of various historical societies and localities from neighboring counties and from Canada. At the unveiling of the monument "To the Unknown Dead of the War of 1812," buried at Madison Barracks Cemetery, on Decoration day, 1888, at the request of Colonel Richard A. Dodge, Eleventh Regiment Infantry, U. S. A., commander of the post, Colonel Camp delivered a historical address which was at once a comprehensive narrative of the conflict and a splendid tribute to those who were actors in it, as let witness a single eloquent sentence of his apostrophe:
"Noble men ! and representatives of a race that possessed our land not only by contest, with brawn and brain, but with axe for the forest, a hand and heart for the schoolhouse, neighbor and church, and a flag for their country; pioneering the future greatness of an empire for their children, as a result of their power and Heaven's gift."
Colonel Camp was elected vice-president of the Jefferson County Historical Society when it was organized, and served in that capacity until 1893, when he succeeded President Beman Brockway, deceased, and has been continued in the position to the present time. Colonel Camp has made a life-long study of the history of his county, particularly that relating to the aboriginal occupation, and he has made a choice collection of Indian relics covering every department of tribal life, and has written many valuable papers upon topics covered by his investigation. These labors have given him a certain fame in antiquarian circles, and he has been brought into honored relationship with the Smithsonian Institution at Washington city, with various historical societies, and with distinguished men who have pursued similar lines of study.
Colonel Camp has been identified with the Presbyterian church of Sackett's harbor from his childhood, and it has been constantly the object of his solicitude and generosity. In 1879 he built a handsome chapel which he presented to the society as a Christmas gift, and at a later day he expended his means and gave his personal care to the construction of a church tower for the reception of a chime of nine bells, the gift of Mrs. Marietta Pickering Hay, of Tarrytown. This gift was intended by the donor to be a memorial to her father. Captain Augustus Pickering, an old-time mariner, who commanded the first vessel that ever entered the port of Chicago. Another gift of Colonel Camp was so characteristic of the man that it need be here mentioned. Narration has been previously made of his subscriptions to railroad construction. These were not made with expectation of direct return, and the unselfish motives which governed him in the matter are attested by the fact that, when the road was sold and returns were made to the subscribers of the building fund, Colonel Camp donated his share to the Presbyterian Church Society as a fund in perpetuity for repairing the church edifice and for the purchase of books for the Sunday school library.
Colonel Camp has never married, but he has for many years maintained a splendid home. His place of residence is the mansion and grounds formerly owned and occupied by Commodore Melancthon T. Woolsey, which came to the Camp family in 1844. Here Colonel Camp has entertained his friends with a generous and refined hospitality, which affords a real significance to a phrase which he has ever held in honor: "Whatever we possess is doubly valuable when we are so fortunate as to share it with others." Possessed of genuine musical tastes and ability, his home is adorned with numerous beautiful instruments, upon one of which, particularly, the flute, he is an expert performer. He has traveled much, in Europe, as well as in America, and has collected many rare and interesting volumes, works of art and curios. Now in his eighty-second year, serene in recollections of a well spent life, which has been a benediction upon those within the sphere of his influence, he can well realize, in all its delightful fullness, the meaning of the poet's phrase:
"My mind to me a kingdom is;
Such perfect joy therein I find
As far exceeds all earthly bliss
That God or nature has assign'd."
Talcott Ancestry
The Talcott family is traced to "The Worshipful Mr. John Talcott," of Hartford, who died in 1660.
(II) Lieutenant John Talcott, son of John (1), died in 1688. By his second wife, Mary Cook, he had a son (III), Hezekiah, who lived from 1686 to 1764.
(IV) Eunice, daughter of Hezekiah Talcott, 1736-1804, married Elnathan Camp (of fifth generation, mentioned above), and was the mother of Talcott Camp. Nancy Hale, wife of the latter, was of the sixth generation from John Talcott, of Hartford (above mentioned).
(II) Captain Samuel Talcott, son of John (1), graduated at Harvard in 1658, and died 1691. His wife was Hannah Holyoke.
(III) Deacon Benjamin Talcott, son of Captain Samuel, 1674-1727, married Sarah Hollister.
(IV) Sarah, daughter of Deacon Benjamin and Sarah Talcott, 1699-1743, married Jonathan Hale.
(V) Captain Jonathan Hale, son of Jonathan and Sarah (Talcott) Hale, 1718-1776, married Elizabeth Welles, and had seven daughters and four sons. The sixth child (one of twin sisters) Nancy, married Talcott Camp (one of twin brothers), as above related (see Camp VI).
Hitchcock Ancestry
(I) Matthias Hitchcock, born 1610, came to these shores in 1639. His wife, Elizabeth, died in 1676.
(II) John Hitchcock, son of Matthias, died in 1716. In 1670 he married Abigail Merriman, 1654-1739.
(III) John, son of John (1) Hitchcock, born October 18, 1685, died 1760. He married, November 21, 1712, Marlo (Martha) Munson, who died July 1, 1739 (see Munson II). They had seven sons and two daughters.
(IV) Dan Hitchcock, son of John (2), and Martha Hitchcock, born March 14, 1724, died in 1797. He was married August 17, 1743, to Esther Miles, of Cheshire, Connecticut. They had three sons and four daughters.
(V) Eliakim, second son and child of Dan and Esther Hitchcock, 1746-1830, married Ursula Hull, whose ancestry follows:
Hull Ancestry
(I) Richard Hull died in 1662. His son, (II) Doctor John Hull, 1640-1711, was the father of, (III) Captain Joseph Hull, 1668-1744. He married, in 1691, Mary Nichols, who died in 1733.
(IV) Caleb, son of Captain Joseph and Mary (Nichols) Hull, 1695-17S8, married, in 1724, Marcy (Mercy) Benham.
(V) Andrew Hull, son of Caleb and Marcy (Benham) Hull, 1726-1774, married, in 1750, Lowly Cook, 1730-1785, daughter of Captain Samuel and Hannah Cook.
(VI) General Andrew Hull, 1758-1827, married, in 1781, Elizabeth Atwater, of Cheshire, where he was a farmer and merchant. He served with distinction in the Revolutionary army.
(VI) Ursula, daughter of Andrew and Lowly (Cook) Hull, was born November 10, 1760, and became the wife of Eliakim Hitchcock, and the mother of Mrs. George Camp (see Camp, VII).
(III) Marlo (Martha) Munson, wife of John Hitchcock (2), and mother of Dan Hitchcock, was of the third generation in America, a daughter of Samuel Munson (see Munson, II).
Source: Oakes, Rensselaer Allston, 1835-1904, [from old catalog] ed; Lewis publishing co., Chicago, pub. [from old catalog]. Genealogical and family history of the county of Jefferson, New York. New York, Chicago: The Lewis publishing company. 1905.