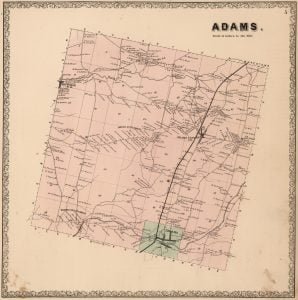 The Thomas Settlement, on Sandy creek, a few miles below Adams village, derives its name from the well-known Thomas family, who settled here in April, 1800. There were four brothers, William, Benjamin, Ezra, and Ira, who made the journey from Halifax, Vermont, by ox-team through the wilds. They immediately began clearings, and the ensuing year were followed by their mother and two younger brothers, Elihu and Joel. Many of the farms in this part of the town were opened by them, and when the country was imperiled, in 1812, they went to the defense of Sacket's Harbor, participating in the action at that place. A noted characteristic of the family was their fondness for martial music, and their ability to execute the good, soul-stirring old tunes. For many years the Thomas drum corps was one of the institutions of the town, and many an Independence day and social gathering were enlivened by the rat-tat-tat of their drums. Elihu Thomas is the only survivor of the brothers living in town, although many of their descendants remain, noted as useful citizens.
A Captain Barney kept a tavern at the corners in the settlement about 1810, which he continued a number of years. A small stock of goods was added, and a store kept in connection with the inn. Becoming involved, he closed out his business, moved to Watertown, where he kept a hotel, and years after was accidentally drowned in Black river. Farther up the road towards Adams, O. Salisbury opened another tavern, in 1811. This, also, was discontinued as soon as the village became a trading-point.
William Gilbert, from Marlboro', Vermont, came to Adams in 1810, and was for many years one of its prominent citizens. Edward Barney came about 1801, and was a sort of a physician, although never schooled for the profession.
Source:  Durant, Samuel W. and Henry B. Peirce. History of Jefferson County, New York, With Illustrations and Biographical Sketches of Some of its Prominent Men and Pioneers. Philadelphia: L.H. Everts & Co., 1878. p 243.