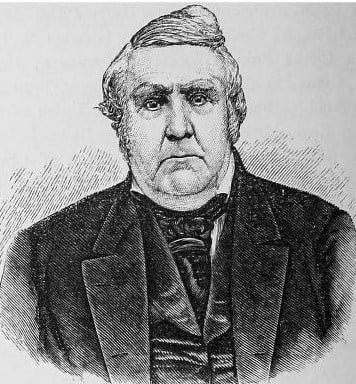 Azariah Walton was born in Chesterfield, New Hampshire, August 20, 1781. His family were of English extraction. But little, however, is known of its history previous to the birth of our subject. Like most of the youth of that day, his opportunities for education were extremely limited, and his knowledge was obtained from the bitter school of experience. He early evinced in decided taste for mechanics, learned the trade of a blacksmith, and became an expert machinist. To this fact is attributable his emigration to Jefferson County previous to he War of 1812. At this time Brownville was building, and he was engaged to superintend the construction of the cotton-mills at that place. He remained at Brownville until the year 1824, when he moved to Theresa, where he engaged in merchandising until 1828, when he received the appointment of collector of customs for the port of Alexandria Bay, which office he held for nineteen years.
He became engaged in general merchandising and lumbering, and, being a sagacious and shrewd business man, was successful. In 1815 he purchased, in company with Chesterfield Pearson, all the islands in the American channel of the St. Lawrence river from the heads of Wells island to Morristown. Many of the smaller ones he sold at a nominal sum, but the major portion he was in possession at his death, which occurred June 10, 1855. Mr. Walton was a man possessed of most of the cardinal virtues, his social qualities were of a high order; he possessed in eminent degree, the faculty of making every one about as happy as himself, and it is still the delight of many who knew him intimately to relate anecdotes showing his proverbial good-nature. May 29, 1810 he married Miss Mary Gilson, who was born November 15, 1791, by whom he had ten children, four of whom are living. All in all, Mr. Walton was a model specimen of that race of pioneers who years ago laid the foundation for the present wealth and enterprise of Jefferson county. 1)Durant, Samuel W; Peirce, H. B. (Henry B.) History of Jefferson County, New York. Philadelphia: L.H. Everts & co. 1878.
Azariah Walton's House in Alexandria Bay
Article written by David F. Lane about the old homes and the families who built and lived in them; published in the Watertown (NY) Daily Times, 1941-1956 in a series titled Old Mansions of the North Country (No. 1-87), Old Homes of the North Country (No. 91-99, 103), and Old Houses of the North Country. Placed online by the Genealogy Department of Roswell P. Flower Memorial Library, Watertown, NY.