Jefferson County, created in 1805 from Oneida County, was named in honor of President Thomas Jefferson. Settlement started as early as 1794. The economy has always been heavily supported by agriculture — particularly dairy farming — and by some of the oldest paper mills in the state. The county is located at the east end of Lake Ontario, in a region of New York called the "North Country." It is bordered on the northwest by the St. Lawrence River, on the northeast by St. Lawrence County, on the east by Lewis County, and on the south by Oswego County. The only city is Watertown, population roughly 30,000, located about 80 miles north of Syracuse, Onondaga Co., New York. Today, the county features numerous historic and tourist attractions, including the Thousand Islands Region and Sackets Harbor, site of two battles during the War of 1812.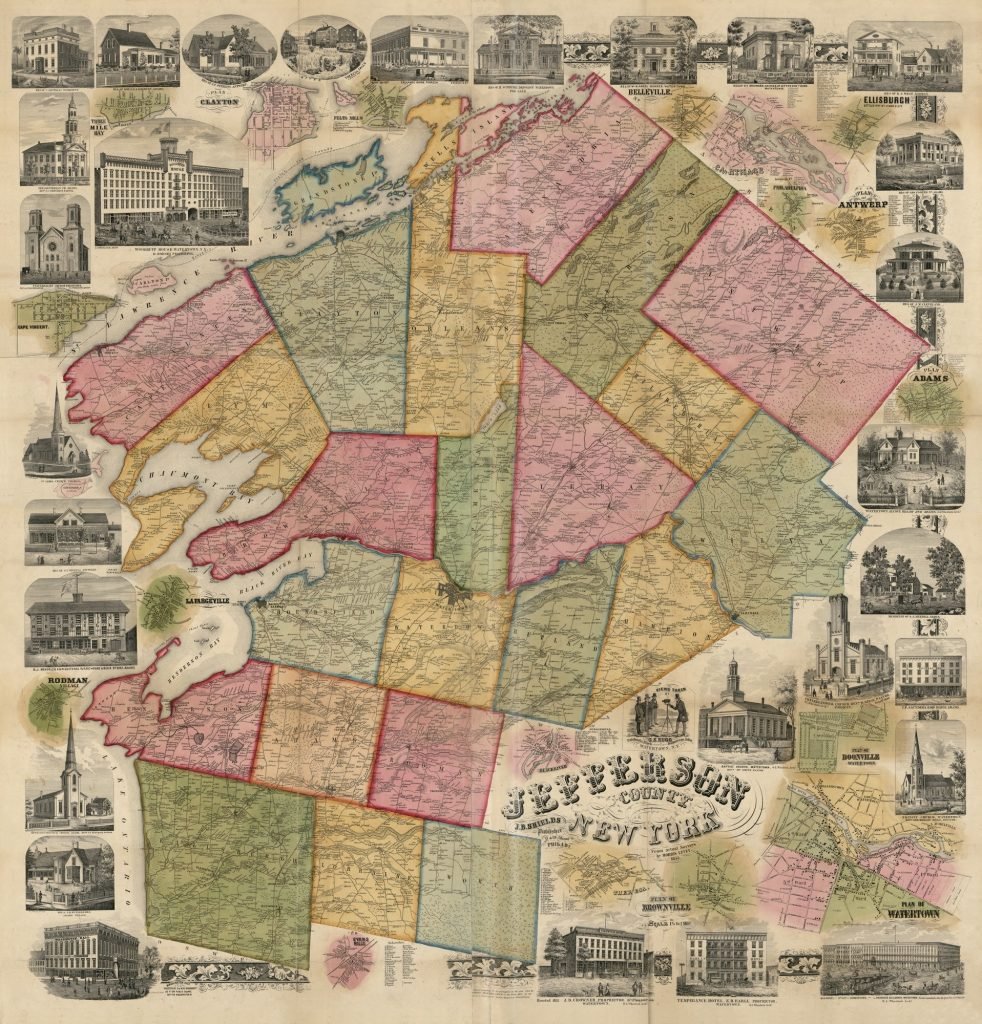 Jefferson County New York Genealogy is part of the New York History and Genealogy Project. My name is Dennis Partridge and I am the county coordinator. If you have information about this county you would like to place online, then please contact me using the contact form on this website. The American History & Genealogy Project (AHGP) is a group of like-minded individuals committed to providing free access to American genealogical and historical information online. Organized by locations, volunteers host states, counties, and sometimes town or city websites specializing in their areas of interest. Come join us today!
Townships of Jefferson County New York
Biographies of Jefferson County New York
Cemeteries in Jefferson County New York
Census Records for Jefferson County New York
Church Records for Jefferson County NY
Directories of Jefferson County New York
Genealogy of Jefferson County New York
Historical Newspapers in Jefferson County NY
History of Jefferson County New York
Transactions of the Jefferson County New York Historical Society
Photos of Jefferson County, New York
Military Records of Jefferson County New York
Old Houses of the North Country
Articles written by David F. Lane about the old homes and the families who built and lived in them; published in the Watertown (NY) Daily Times, 1941-1956 in a series titled Old Mansions of the North Country (No. 1-87), Old Homes of the North Country (No. 91-99, 103), and Old Houses of the North Country. Placed online by the Genealogy Department of Roswell P. Flower Memorial Library, Watertown, NY.
Yearbooks of Jefferson County New York
Genealogical and Family History of Northern New York A RECORD OF THE ACHIEVEMENTS OF HER PEOPLE IN THE MAKINGOF A COMMONWEALTH AND THEFOUNDING OF A NATION. COMPILED UNDER THE EDITORIAL SUPERVISION OF WILLIAM RICHARD CUTTER, A. M. Historian of the New England Historic-Genealogical Society; Librarian emeritus of Woburn Public Library:Author…