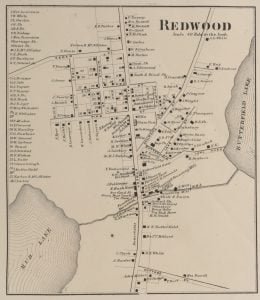 Redwood, a thriving village near the line of Theresa, owes its origin to a glass-factory, established by John S. Foster, who for several years had been engaged in this business, as agent, at Boston, Burlington, Vt., and Bedford, Clinton county. In April, 1833, he visited this county, examined several localities, and finally selected this, which is on the stream connecting Mud and Butterfield lakes, the former of which is about 94 feet above the latter, affording a limited water-power, that had several years previous been improved by the erection of a saw- and grist-mill by David Smith, of Adams. Foster contracted with Francis Depau for a tract of about 10,000 acres, as agent, borrowed several thousand dollars of Depau, and the same summer erected the present glass-factory, and on Sept. 30, 1833, the first glass was made. A village was surveyed by Thomas Clark, and named Jamesville, but Mr. Foster gave the place the present name, from its similarity to "Bedford," his late residence, in hopes of thus being able to compete in the sale of glass with an establishment from which he claimed to have been unjustly discharged. His death, which occurred Jan. 2, 1834, put a stop to operations, and the tract and improvements, according to the contract, reverted to Depau. The factory was afterwards run by Schmauss & Co., Gerlach & Son, Ingleson, Forbes & Co., H. S. White, and from 1844 by Zeng & Co., from the Clyde glass-factory. This firm at first consisted of Lawrence W. De Zeng, A. Burlingame, and Theodore Hinman. The latter was succeeded by A. Salisbury, and this firm continued operations until July 1, 1853, when a joint-stock company, with 112,000 capital, was formed, entitled the "Redwood Glass-Manufacturing Company." In 1859, W. W. Butterfield became connected with the concern as its president, and remained as such until 1863, in the mean time having purchased all the stock. He subsequently operated the concern alone, until 1874, when he leased it for 3 years to a stock company, which made but one blast in ten months, and at the expiration of their lease, in June, 1877, the property again reverted to W. W. Butterfield, its present owner. Owing to the low price of glass, operations have been temporarily suspended.
The present grist-mill was erected in 1844, by H. S. White and Joseph Butterfield 1)Joseph Butterfield House in Redwood. It has four run of stone, and had originally a 24-feet overshot wheel, which was replaced in 1870 by a turbine iron wheel.
In 1846 a wool-carding and cloth-dressing factory was built by William Page. It is now temporarily lying idle.
The village now contains 3 general stores, 1 hardware store, 1 boot and shoe store, 2 drug stores, 1 millinery establishment, 2 hotels, a glass-works, a carding-wool and cloth-dressing factory, a sash, door, and blind factory, a cabinet shop, 1 grist- and 1 saw-mill, 2 wagon shops, 4 blacksmithies, a railroad depot, 2 telegraph offices, an ex-press office; 4 churches, and a good graded school; 3 resident ministers, 3 doctors, 1 lawyer, and 1 dentist, and an estimated population of 700.
(From the Despatch,)
Redwood
Hail, hamlet of peace, with your villas so sweet !
Where the blue waters mingle and lave at your feet,
An emblem of freedom and union complete !
Proud freemen pay tribute more heartfelt to thee,
Than to "beautiful Venice, the pride of the sea."
Here nature's best charms to the vision unroll,
And her diamonds and pearls give new worth to the soul
As it bathes in the sunlight and heaven's pure air,
And exults in relief from the world's busy care;
Where nectar distills from the hemlock and pine,
Health flows from the vintage of nature's pure wine;
More enchanting the forests than orange-tree groves —
A fitting abode for the gods and their loves.
Ye beautiful lakes with your isles that adorn,
That first greet the eye in the smile of the morn,
While the weird shadows dance o'er your silvery sheen.
As the breeze lifts the plumes from your turrets of green,
Where the light-bounding yacht o'er the waters may glide,
Not lashed into danger by ocean's fierce tide !
Where the calm stillness breaks at the dip of the oar,
And the trill of the wave ripples soft to the shore.
While anon the soft cadence is borne on the breeze,
That sings from the boughs of the evergreen trees;
And the owl sends refrain as the night shadows fall,
And the garrulous loon gives response to the call,
While the echoes return Hoo, hoo ! Loo, loo, loo !
As homeward the fisherman guides his canoe.
'Tis a picture exquisite of sunlight and shade,
And of nature's own painting that never can fade.
Down, down through the ages thy fame shall descend,
And thy lights and thy shades still in harmony blend.
And the children of care, by life's conflict oppressed,
Find within thy green borders a haven of rest.
When greenwood shall crumble and cities decline.
The star of thy beauty, fair Redwood, shall shine !
                                                                       E. A. H.
Redwood Union School
In 1859 a union school was formed at Redwood, but owing to the destruction of the records up to 1872, we are unable to furnish as complete a history of it as desirable. The building was erected in 1859, and the first officers were, Peter Tassay, trustee; Alexander Salisbury, clerk; Robert Hoffman, collector. The names of those who have served as principals are, James P. Bennett, 1865-66; Byron Stotler, 1867-68; Dennis Mahanna, 1869; C. B. Townsend, 1870; Donald A. Watson, 1871-74; Richard Pevin, 1875; P. H. Curran, 1876-77, present incumbent.
The officers for 1877 are, Christopher Ahlis, trustee; P. H. Curran, clerk; George H. Smith, collector; Mrs. A. J. Cole, librarian.
Redwood Union Agricultural Association
This association was organized in July, 1874, with a capital of $5000. W. W. Butterfield was elected president; M. C. Jewett, vice-president; and J. W. Reade, secretary and treasurer. The object of the society is to stimulate exertions in the progress and development of intelligent agricultural pursuits, the improvement and betterment of stock, and the general advancement of agricultural interests. The first fair was held in October, 1874, and an exhibition has been held annually since. The association is reported in a prosperous condition.
Redwood Burying-Ground
This burying-ground is located just past the line of Alexandria, in the town of Theresa. It was first used for burial purposes about 1830. About twenty-five years ago a few of the citizens of Redwood partially organized and purchased the ground, fenced and laid out into lots, etc.; since which there has been no organization kept up.
The Catholics have a regular organized cemetery association of a later date.
Source:  Durant, Samuel W. and Henry B. Peirce. History of Jefferson County, New York, With Illustrations and Biographical Sketches of Some of its Prominent Men and Pioneers. Philadelphia: L.H. Everts & Co., 1878. p 269-270.