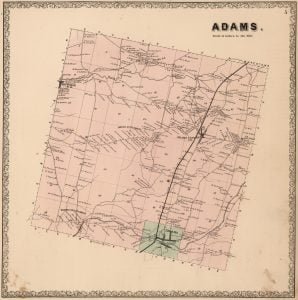 This town, like many others in the southern part of Jefferson county, before the division of Oneida county formed a part of Mexico, which has fitly been termed the mother of towns, and was set off April 1, 1802. It received its name in honor of President John Adams, and included No. Y, or Aleppo, and No. 8, or Orphetis, of the "Eleven Towns," or the "Black River Tract." This area was maintained until No. 8 became a separate town, with the name of Rodman. Adams is nearly square, its sides measuring about six miles from east to west, and not quite seven from north to south. On the north it borders on Hounsfield and Watertown; east, on Rodman; south, on Lorraine and Ellisburg; and on the west, on Henderson. The surface is generally level, excepting the northwest portion, which is somewhat broken by the lake ridge, which here traverses the town; but much of the most elevated land is susceptible of cultivation, and there is comparatively little waste land in the town: even what seems most sterile affords excellent grazing. The ground was originally quite heavily timbered with maple, beech, birch, elm, and butternut, a consider-able area of which yet remains. There were also large bodies of cedar, and a limited quantity of pine, which contributed largely to the early wealth of the town, supplying much of the fencing and building-material of the present improvements. The soil is generally fertile: a black mold, sandy loam, or a loam somewhat mixed with clay, under-laid by limestone, with outcroppings of this rock on high ground. The town is well watered, having the North Sandy creek and many tributary brooks in the south, and Stony creek, with numerous small branches, in the northern part. Both streams are fed by springs, and afford permanent water-power.
The distinguished surveyor, Benjamin Wright, said, in 1796,
"No. 7 is a good township; there is fine soil and good timber. The Big Sandy creek is a largo stream, 1 chain 80 links wide."
Town No. 7 fell to the share of Nicholas Low, in the subdivision of the eleven towns by ballot, and was surveyed by Benjamin Wright, in 1796, into 56 lots, numbered from west to east and from north to south, commencing near Henderson bay, and ending on the line of Lorraine. Mr. Wright complained of local attractions, that rendered it impossible to run straight lines. The lots varied in contents from 240 acres to 676 acres, and the whole made an aggregate of 26,505 acres. This tract of land had been mortgaged to William Constable, June 15, 1796, by Henderson, Low, Harrison, and Hoffman. It was assigned to the Bank of New York, but Low succeeded in getting a release, June 16, 1804.
In June, 1799, a company, consisting of Nicholas Salisbury, Robert Fulton, Caleb Ellis and son Daniel, Joel Guile, Abram Wilcox, John and Gideon Howard, and Elihu Phillips, followed up the creek from Ellisburg, through this town and Rodman, and the former was so struck with the probable fertility and value of the town that he went to New York the same fall, and purchased a tract one mile below the village. About a dozen, whose names are given in the following list, took up lands the same fall. This list is taken from the land books of Nicholas Low, in the hands of I. W. Bostwick, Esq., of Lowville, the agent under whom the town was mostly settled:
1798, Elisha Phillips.
1799, Oct. 29, Stephen Shippey, Enon D'Estaing, Nicholas and Alex. Salisbury, Solomon Smith, Daniel Cornstock, David Smith, Abram Ripley, and Jonathan Cable; Not. 6, Eliph't Edmonds, Alexander Dewey; Nov. 14, Geo. Cooper, Jehoida Page, Solomon Truman, John W. Smith, Francis McKee, Robert Myrick; Dec. 1, Squier Read, Daniel Fox, Zaccheus Walworth.
1800, Josiah Godfrey, Jenks Seaman, Simeon Forbes, Ebenezer Lazelle, David and Stephen Grommons, Isaac Baker, Samuel Fox, Geo. Houseman, Peter Doxtater, Paul Stickney, Elias Avery, James McCumber, Russell Smith, Eben'r Brown, Amos Claflin, Joshua Cornstock, Matthew Wilkie, Consider Law.
1801, Abijah Miller, John Freeman, Josiah Godfrey, Daniel Talcott, Hezekiah Tiffany, Joseph Cook, Phineas Rose, Robert, Solomon, and Asher Robbins, Simeon Meacham, Timothy Pond, Barnabas Wellman, Wm. Thomas, Abel Hart, Henry H. Walrodh, Chauncey and Roswell Mills.
1802, Nathan Loveland, Cornelius Hinds, Sylvanus P. Daggart, Abel Loveland, Roswell Taylor, Roswell Coe, John Richard, David Higgens, Aaron Farr, John C. Toll, John C. Scott, James Streeter, John Kudder, Joseph Landon.
1803, Truman and Theodore Bunce, John Jones, John Wentworth, Sylvanus Barney, James Randolph, D. G. M. Gaylord, James Henderson, Thomas James, Absalom Price, David Gardner.
1804, Job Taylor, Eliphalet Adams, Abel Myrick, Darius Markham, John C. Dickinson, John Weaver, Aaron Webster, and subsequently many others.
Although in the fall of 1799 many parties were in looking for lands, yet no settlement was made until April 16, 1800, when Nicholas Salisbury, from Western N. Y., found his way into town through Lowville, by a tedious journey of twenty-six days, bringing with an ox-team and sled his family and goods, fording the streams with great peril, and camping at night wherever necessity compelled them. Solomon Smith and son accompanied, as hired men. John Smith, Francis McKee, Consider Law, David Smith, Peter Doxtater, and others, several with families, came into town, and began small clearings, mostly in the valley of Sandy creek. The terms of purchase were $3 per acre, and an obligation to clear two acres and build a house within a certain time. In the spring of this year came David Smith, taking up 500 acres of land where Adams village now is; and later in the season witnessed the arrival of numerous settlers, mostly from Oneida county. Those on foot came by way of Redfield, but this route was then impassable for teams. In 1801, Jacob Kellogg, John Cole, and many others moved in, and in the second or third following years a flood of immigration soon filled up the town, which every-where presented small patches of clearing, rude huts, blind paths through the forest, destined to become roads, and from every side echoed the woodman's axe, that gradually prepared the way for cultivation.
The first deeds of land to actual settlers were given August 20, 1802, to George Houseman, Peter Doxtater, Francis McKee, Robert Myrick, and David Smith. 1)Dr. Hough The first acre of clearing in the town was cut in May and June, 1800, by Samuel Fox, three miles above the village. On March 21, 1801, occurred the first death, that of Alexander Salisbury, who was drowned while attempting to cross Sandy creek in a scow above the dam, at Adams village. The marriage of his widow to Daniel Ellis, June 8, 1802, is supposed to have been the first wedding in town.
To Nicholas Salisbury belonged the honor of erecting the first building, — a log house, in 1800. He soon after put up a frame house near the same place, a mile below the village, which yet remains. Mr. Salisbury was an active, enterprising man, serving the town in various capacities. He died at his adopted home Dec. 11, 1834. A short distance above the village lived Jacob Kellogg, who moved from Paris, N. Y., in 1801. He was a useful citizen, and reared a large family, some of whom yet live on the homestead, where he died in 1854.
Biographies of Adams New York
Adams, Jefferson County, New York Biographies
These 122 biographies and biographical sketches were extracted from the Geographical gazetteer of Jefferson county, N.Y., 1685-1890, and History of Jefferson County, New York, With Illustrations and Biographical Sketches of Some of its Prominent Men and Pioneers, 1878.
Cemeteries of Adams New York
Adams State Road Cemetery
Dufresne Farm Cemetery
Elmwood Cemetery
Green Settlement Cemetery
Honeyville Cemetery
North Adams Cemetery
Pauls Corner Cemetery
Rices Corner Cemetery
Rural Cemetery
Sanford Corners Cemetery
State Road Cemetery
Thomas Settlement Cemetery
Union Cemetery
Census Records of Adams New York
Federal Census Records
The first United States census specific to Adams New York occurred in 1810. From 1810-1840 only the heads of household were indexed by name, along with the number of other members of the household, their sex and a range of ages which varied between each census. From 1850 onward you are able to find all members of a family listed along with their age given at the time of the census. To get a better idea on what is available for each census see the Census Guide at AccessGenealogy.
There are no transcribed census records specific to Adams New York, so you'll need to search the larger databases of free images:
State Census Records
The State Census of New York were taken every ten years from 1825 to 1875, in 1892, and again in 1905, 1915, and 1925; pre-1825 state censuses and state copies of those for 1855 to 1905 were destroyed in the 1911 state library fire. Most of the censuses that have survived can be found with the county clerk, although some are with the county historian or in other locations. For a list of the whereabouts of these censuses, consult Marilyn Douglas and Melinda Yates, comps., New York State Census Records, 1790–1925, Bibliography Bulletin 88 of the New York State Library (Albany, N.Y.: 1981), which has some errors and omissions. 2)Roger D. Joslyn, CG, FUGA, FGBS, FASG. Red Book: American State, County, and Town Sources.
Family Search has placed some of these state census online. Currently they have from 1855-1905 as searchable images. However the 1915 and 1925 census are only searchable… the actual images are located at Ancestry and require a subscription in order for you to access them there.
Church Records of Adams New York
The following items are available at the Flowers Memorial Library in Watertown New York.
Adams Baptist Church

alphabetical membership roll 1846 — 1885, with some later additions.
includes baptisms, deaths, and some marriages.
list of pastors 1846 — 1972.

Adams Presbyterian Church

List of ministers 1804 — 1857.
Membership roll 1804 — 1858.

Baptist Church of Adams Center

Membership roll 1853 — 1885, with baptisms & deaths (indexed)

Emmanuel Episcopal Church in Adams

Alphabetical membership roll 1862 — 1880, includes births, marriages, & deaths.
List of marriages 1861 — 1889 (not indexed).
List of burials 1859 — 1889 (not indexed).

First Baptist Church of Adams at Honeyville

Membership roll 1804 — 1897 (not indexed).
Includes some births, marriages, & deaths.

First Congregational Society of the Town of Adams

List of people's names mentioned in the annual meetings 1805 — 1820.

Methodist Episcopal Society in Adams

list of pastors & first members.
list of marriages 1867 — 1895 (indexed).

Seventh Day Baptist Church, Adams Center

Membership roll including deaths, some births, parents' names, & miscellaneous information (indexed).

Smithville Baptist Church

Alphabetical membership roll 1811 — 1888.
New York Baptist Church Records at the Samuel Colgate Historical Library
More than 500 volumes of original records of churches, associations, and state bodies have been placed in the American Baptist – Samuel Colgate Historical Library, in Atlanta Georgia. These records were placed there voluntarily. Baptist polity does not have any mechanism to require a local congregation to deposit its records at this site or at any site. As a result, the records of many Baptist churches over the years have been lost.
Adams Center Baptist Church- (TS); 1853-1885
Adams Center Seventh Day Baptist Church- (O); 1822-1927
Smithville Baptist Church- (PC, TS); 1807-1921
History of Adams New York
Old Houses of the North Country
Articles written by David F. Lane about the old homes and the families who built and lived in them; published in the Watertown (NY) Daily Times, 1941-1956 in a series titled Old Mansions of the North Country (No. 1-87), Old Homes of the North Country (No. 91-99, 103), and Old Houses of the North Country. Placed online by the Genealogy Department of Roswell P. Flower Memorial Library, Watertown, NY.
Yearbooks of Adams New York
Source:  Durant, Samuel W. and Henry B. Peirce. History of Jefferson County, New York, With Illustrations and Biographical Sketches of Some of its Prominent Men and Pioneers. Philadelphia: L.H. Everts & Co., 1878. p 242-243.