This name belongs to one of the oldest families in America, and is borne by numerous residents of Jefferson county. It has been conspicuous in the annals of many states, and its representatives have participated in the development of civilization, as pioneers, patriots and in all lines of business and professional endeavor.
(1) The family had for its first American ancestor Thomas Hungerford, an Englishman. He was presumably a mariner, for his name does not appear on any ship's list as a passenger. He was at Hartford, Connecticut, prior to 1639. The records of the colony do not show that he was an original proprietor to whom lands were divided in fee, but he acquired land of some proprietor or was granted "lottes to have onely at the towne's courtesie." He resided on what is now Main street, in the city of Hartford, and undoubtedly built the house in which he lived. Early in 1650 he sold his Hartford property and removed to New London, Connecticut, where he died in 1663. The inventory of his estate shows him to have been a husbandman. His first wife, whose name is unknown, bore him two children — Thomas (further referred to herein-after) and Sarah. Sarah was born in 1654, and married Lewis Hughes, of Lyme, Connecticut. The second wife of Thomas Hungerford was Hannah, daughter of Isaac Willey, of New London, and to them was born one child, Hannah, May i, 1659, who married a Ross or Rose, of Rhode Island.
Thomas Hungerford Family of East Haddam Connecticut
(II) Thomas Hungerford, only son of Thomas Hungerford, was born in Hartford, 1647, and was presumably the first of the family name born in America. About 1688 he removed to Haddam, Connecticut, where (December 20, 1697) he was chosen collector, and at a town meeting (December 27, 1698) was chosen townsman and "sovaire." He was a farmer or nail-maker. His homestead was in the south part of the present town of East Haddam, about a half mile east of the Connecticut river, a quarter of a mile north of Lyme, his home standing at the corner of the road, and the property was in the possession of his descendants as recently as 1839. He married, prior to June 6, 1671, Mary Gray, of Narragansett, Rhode Island. He died in January, 1713-14, aged about sixty-six years, and was buried in the first burial ground in the present town; a gravestone bearing the initials, "T. H.," is supposed to mark his grave. His wife survived him, but the date of her death is unknown. Their children were:
Thomas M. Hungerford, of whom further.
John M. Hungerford, who married Deborah Spencer.
Green M. Hungerford, who married Jemima Richardson.
Elizabeth M. Hungerford, who married Joseph Gates.
Susannah M. Hungerford, who married Samuel Church.
Sarah M. Hungerford, who married Nathaniel Cone.
Mary M. Hungerford, who married Stephen Cone.
Easter M. Hungerford, who married Samuel Gates.
Thomas M. Hungerford Family of East Haddam, Connecticut
(III) Thomas M. Hungerford, eldest child of Thomas and Mary (Gray) Hungerford, was born in New London, Connecticut, in 1670 or 1671, and died at East Haddam, Connecticut, in 1743. He married Elizabeth Smith, who bore him eight children:
Hannah Hungerford, born August 16, 1700, died 1781; married (first) Samuel Ackley, Jr., and (second) David Gates.
Thomas Hungerford, born July 11, 1702, died November 12, 1786; he married Margaret Stewart, who died February 16, 1787.
Benjamin Hungerford, of whom further.
Elizabeth Hungerford, born December 4, 1707, baptized April 11, 1708.
David Hungerford, probably born in 1710, baptized May 21, 1710, died about 1755; he married Sarah —.
Samuel Hungerford, died in infancy.
Jonathan Hungerford, baptized April 17, 1715, died about 1771; he married Martha Wells.
John Hungerford, born March 4, 1718, baptized May 4, 1718, died December 15, 1787; he married his cousin, Deborah, daughter of John Hungerford.
Benjamin Hungerford Family of Bristol Connecticut
(IV) Benjamin Hungerford, third child and second son of Thomas M. and Elizabeth (Smith) Hungerford, was born in East Haddam, Connecticut, December 15, 1705, baptized May 5, 1706. He lived in Millington Society, on land deeded to him by his father, adjoining that of his brother, David. Early in 1748 he removed to New Cambridge, in Farmington (now Bristol, Connecticut) and lived on what is now West street. He married, in 1730, his cousin Jemima, a daughter of Green Hungerford; they died, respectively, February 1, 1790, and June 1, 1769; they were buried in the South burying ground at Bristol, Connecticut, but there is no known grave mark left. They were the parents of eleven children:
Prudence Hungerford, born August 4, 1731, married Eleazor Gaylord, January 4, 1749, and died in July, 1804.
Mathew Hungerford, born May, 1733, married Rachel Spencer, February 26, 1756, and died May, 1809; they had eleven children.
Jemima Hungerford, born May, 1735, died August, 1757.
Rachel Hungerford, born May, 1737, died October 30, 1828, aged ninety-two, she married Jesse Gaylord, August 30, 1756.
Lydia Hungerford, born June 5, 1739, died November 25, 1812, aged seventy-three years; she married Jabez Bacon, about 1759.
Benjamin Hungerford, born May, 1741, died September 4, 1775; he married Kesia Walker.
Stephen Hungerford, born May, 1743, died June 7, 1814, aged seventy-one.
Susanna Hungerford, born July. 174.S, died July, 1771; she married Jonathan Pond.
Timothy Hungerford, of whom further;
Jacob Hungerford, born July 16, 1749, died June 23, 1812; he married Mary Newell, December 13, 1770.
Mary Hungerford, born July, 1751, died August 22, 1823, aged seventy-two years; she married Thomas Hart.
Timothy Hungerford Family of Watertown New York
(V) Timothy Hungerford, ninth child and fourth son of Benjamin and Jemima (Hungerford) Hungerford, was born at the Millington homestead in East Haddam, Connecticut, April, 1747, and was baptized at the Millington church, Connecticut, May 31, 1747. He lived (until about 1800) on land deeded to him by his father February 9, 1769, in Farmington, Connecticut, now Bristol. He then removed to Paris, Oneida county, New York, and in the spring of 1804 to Watertown, New York. He died December 5, 1827, in his eighty-first year. He was married at Bristol, January 21, 1772, by the Rev. Samuel Newell, to Hannah Heicox, who was born m 1749, and died September 28, 1827, in her seventy-ninth year. They were the parents of seven children:
Nancy Hungerford, who married Josiah Bradnar, and died March 1, 1843.
Hannah Hungerford, born September 13, 1777, in Bristol, died October 16, 1826, in Watertown, while the wife of Jabez Foster.
Anson Hungerford, born September 21, 1779, died July 12, 1864, aged eighty-five years; he married Sarah P. Coe, in 1802.
Timothy Hungerford, of whom further.
Lorrain Hungerford, died May 10, 1835; she married Daniel Brainard, 1806.
Dexter Hungerford, born 1789, died March 2. 1854; he married Marrette Burr.
Orville Hungerford, mentioned at length below.
Timothy Hungerford Family of Watertown Center, New York
(VI) Timothy Hungerford, fourth child and second son of Timothy and Hannah (Heicox) Hungerford, was born in Bristol, October 16, 1781. About 1800 he removed with his father to Paris, Oneida county, New York. In the spring of 1804 he removed to Watertown, Jefferson county, New York, and afterward settled at Watertown Center, where he cultivated a farm and kept an inn until his death, November 14, 1857. He married (first) Mary Richardson, born November 14, 1785, died August 20, 1841. Their children were
George Hungerford
Edwin Hungerford
Truman Hungerford
Mary Hungerford
Jabez Foster Hungerford
William Hungerford
Mary Ann Hungerford
His second wife was Nancy Atherton.
Edwin Hungerford Family of Evans Mills, New York
(VII) Edwin Hungerford, second of the five sons of Timothy and Mary (Richardson) Hungerford, was born at Watertown Center, New York, April 13, 1809, and died at Evans Mills, New York, August 5, 1891, aged eighty-two years and four months. He married (first), January 30, 1829, Catherine Ferrel, who was born in 1810 and died in February, 1835. September 1, 1840, he married (second) Laura M. Haskins, who was born April 17, 1817, and died February 3, 1863. The children of his first marriage were:
Mary Ann Hungerford, born October 16, 1830, married Portal Barney, of Henderson, New York, in December, 1852; he died in January, 1863, leaving children:

Kate Louise Barney, born November, 1853;
Daniel L. Barney, born February 26, 1856.

Sarah Ann Hungerford, born January 16, 1832, died May 6, 1891. She married David Briant, of Le Ray, New York, in December 1852, and to them was born:

Henry Elbert Briant, in September, 1855.

Elbert Hungerford.
By his second marriage Edwin Hungerford was the father of five children:
Edwin Oscar Hungerford, born at Evans Mills, July 5, 1841; married Anna Cook.
Alice Adelaide Hungerford, born at Evans Mills, September 10, 1845; married Henry Morris.
Ella Jennie Hungerford, born at Evans Mills, September 6, 1847.
Lelia Ione Hungerford, born at Evans Mills, April 9, 1850; married Carleton Clifford, of Rochester, New York.
Arthur Eugene Hungerford, born at Evans Mills, February 12, 1852; married Jennie B. Porter, of Lowville. New York.
Elbert Hungerford Family of Evans Mills, New York
(VlII) Elbert Hungerford, third child and second son of Edwin and Catherine (Ferrel) Hungerford, was born March 16, 1834. He married, August 16, 1859, Emily Frances Orr, of Pulaski, New York, who was born in Richland, Oswego county. New York, February 26, 1841, and they now (1904) reside at Evans Mills, New York. Ten children were born of this marriage:
Elva E. Hungerford, born in Watertown, New York, June 21, 1860; married Walter Flowland, at Evans Mills, April 2, 1891.
Burt Orr Hungerford, born July 4, 1861, died June 25, 1862.
James Montrose Hungerford, of whom further.
Catherine Blanche Hungerford, born at Le Ray, New York, December 9, 1865, and married Stannard Butler, of Pottsdam, New York.
Lyla Frances Hungerford, born July 5, 1867.
Stella Cornelia Hungerford, born September 8, 1869, and married Fred Rowland, a supervisor of Rutland, New York.
Ferrel William Hungerford, born August 11, 1874, died May 15, 1882.
Rexel Porter Hungerford, born April 25, 1877, died May 12, 1882.
Ruth Mabel Hungerford, born November 8, 1882.
Frank Elbert Hungerford, born February 26, 1886.
James Montrose Hungerford Family of Clayton, New York
(IX) James Montrose Hungerford, third child and second son of Elbert and Emily Frances (Orr) Hungerford, was born at Le Ray, New York, June 26, 1863. He passed his early years at Evans Mills, where he began his education, which was completed in the high school in Watertown. He learned the trade of tinsmith, and afterward that of plumber. In 1883 he located in Clayton, where he took the position of foreman in Atwood Brothers' plumbing shops, and rendered most useful and acceptable service in that capacity for a period of five years. He then (in 1888) opened an establishment of his own, which he has conducted with gratifying success to the present time. One of the largest stores of its character in this section, it is stocked with a full line of all goods found in a first-class hardware emporium, together with all materials needed for plumbing of the most serviceable and modern description. Mr. Hungerford is a member of the Congregational church, and in politics is a Republican. He is a member of Clayton Lodge of Odd Fellows.
Mr. Hungerford married, March 26, 1890, at Clayton, Miss Irene Johnston, who was born in that place, a daughter of Simon G. Johnston, of whom a sketch appears elsewhere in this work. Of this marriage was born one child:
Stanley G. Hungerford, born in Clayton, May 29, 1896.
Dexter Hungerford Family of Brownville, New York
(VI) Dexter Hungerford, sixth child and third son of Timothy and Hannah (Heicox) Hungerford, was born in 1789, in Farmington, Connecticut, and died March 2, 1854, in Brownville. He was a farmer and hotel-keeper, and kept the old inn at Brownville many years. A lover of good horses, which he successfully reared, he was among the original members of the Jefferson County Agricultural Society and always supported it, as he did other progressive enterprises. He exemplified the business sagacity and industry which have ever been characteristics of the family, and was a successful man. His wife, Mariette Burr, was a member of the famous old American family, whose name has been perpetuated in this county by the Village of Burrville. They had three sons and a daughter:
Elbert Valentine Hungerford, the eldest, lived and died in Jefferson county.
Solon D. Hungerford, the second, is mentioned at length herein-after.
Delia Hungerford became the wife of Harlow Kimball and lived in Watertown, Chicago and California, her life ending in that State.
Norman B. Hungerford was many years connected with the Jefferson County Bank, and died in Watertown.
General Solon Dexter Hungerford Family of Adams, New York
General Solon Dexter Hungerford, whose history is so intimately connected with that of Jefferson county, and especially of the town of Adams, belongs to a family whose genealogy can be traced for at least two centuries. Thomas Hungerford came from the parish of Shetford, England, thirty or forty miles from London, and went to Hartford, Connecticut, before the year 1639. Mention is made of a descendant of the same name in the Hartford State Records, and in looking over the American Archives we find that one John P. Hungerford was an officer in the Revolution, and member of congress from 1813 to 18 17, and died at Turford, Virginia, at the age of seventy- four.
At the head of the fifth generation we have Dexter Hungerford, who married Marietta Burr, to whom were born five children. The history of the Burr branch of the family is a remarkable one, including the famous Aaron Burr, and other men of genius.
The third of this family, S. D. Hungerford, was born March 12, 1808. His earliest home was on a farm in Watertown. He entered the dry-goods store of Mr. Adriel Ely, at the age of fifteen, which proved a business discipline of great service in shaping his successful financial career.
After remaining in this position for four years, he decided to prepare for a collegiate course, but, upon the advice of his kinsman, Hon. Orville Hungerford, he took the position of bookkeeper in the Jefferson county bank for a year. At the expiration of that time he was promoted to the position of teller, which office he held for eight years, when he was elected cashier of Lewis county bank, at Martinsburg. At the end of two years he was urged by his friend, Mr. Ely, and his uncle, Hon. Orville Hungerford, to go into banking on his own account, under the general banking law of 1838.
Through the influence and at the urgent invitation of his friend, Robert B. Doxtater, and other leading citizens, he was induced to found an institution at Adams, Jefferson county, called Hungerford's bank, with a capital of $50,000, October 25, 1845, which he successfully conducted as an individual bank till September, 1853, when the capital was increased to $120,000, with the same name, and under a board of directors of which General Hungerford was president. The Banker's Magazine, after a notice warmly commending the management of the Hungerford National bank, as it became under the national banking law, mentions "a remarkable fact connected with the history of Hunger-ford's bank. It has never suspended specie payments during its existence of upwards of twenty years, having honored every and all demands in coin until the advent of greenbacks, in 1861."
Mr. Hungerford had no superior in the successful management of this complicated business. For clearness of judgment, pleasing address, and, beyond all, honest and reliable financial management, he was equally remarkable. His love of agriculture was always intense, both for the pleasure it afforded and the beneficial influence upon his health, while it was intimately connected with his business operations.
He was, for many years before his death, closely identified with the Jefferson county and New York State agricultural societies. For sixteen years he was on the executive board of the State society, and finally took the chair of president. His "Valley Park Farm" was one of the most beautiful in the state. On this he kept one of the best herds of thoroughbred Ayrshire cattle in the United States, and was largely engaged in importing and breeding these favorites; also "short-horns," Leicester sheep, and Yorkshire swine; and shortly before his death devoted much attention to rearing horses, having had a just appreciation of this prince among animals. The Boston Cultivator, May, 1863, mentions a particularly fine group of cattle on the Hungerford estate.
Railroad interests claimed a share of Mr. Hungerford's time and attention. His general enterprise found scope in this direction during the first attempts to connect the northern part of the state with the great thoroughfares and commercial centers.
Both money, time and influence were always at command. In 1855 he was elected a director of the Rome and Watertown railroad, at the earnest desire of such men as Philip Dater, of New York, and later of the Rome, Watertown and Ogdensburg railroad. He was complimented by the capitalists interested, for his substantial improvements in the management of the road. The sound judgment and integrity seen here, as in all other financial concerns, received a significant testimonial in an incident, one among many, gleaned from a private letter addressed to a personal friend by one for years bitterly prejudiced against Mr. Hungerford. In this the writer alludes to certain differences of opinion existing between Mr. Hungerford and himself, and states for. his motive for voting for the former's re-election, his "fearless" discharge of duty in a position where so much "knavery and dishonesty" exists. But a higher object than business enterprise and success was at Mr. Hungerford's heart. Since 1836, when engaged in banking, "the idea of establishing a first-class educational institution in my native country has been very much on my mind," says Mr. Hungerford in reply to the question as to just when his attention was drawn to the greatest achievement of his life, the founding of Hungerford Collegiate Institute, whose splendid position among the literary establishments of the land is a joy to his own heart and an honor to his native state.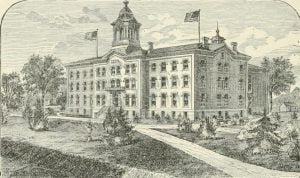 An attempt was made about the year 1855 to erect the proper buildings and put the plan into operation, but owing to disagreement as to the site of the prospective edifice, the whole thing fell through for the time being. But in 1864, a large building, erected for hotel purposes, fell into Mr. Hungerford's hands; this he offered to donate to a board of trustees selected from the several neighboring churches, consisting of twenty-four, provided the citizens would raise an endowment fund of ten thousand dollars, the interest to be devoted to the payment of insurance, repairs, etc. The offer was accepted, a charter secured, and the institute put in successful operation for three years, when the building was burned down. Another site being obtained with the insurance money, avails of the old lot, and contributions to the amount of over eighty thousand dollars, the present structure was erected.
At the opening of the first institute referred to, the exercises were of an unusually interesting character. Special trains were run to the village from neighboring places, General "Joe" Hooker being among the guests. These were welcomed by Rev. Mr. Hobart, in behalf of the trustees, and escorted by the Watertown Cornet Band to Jackson Hall. After music and congratulatory addresses. Dr. Fisher, President of Hamilton College, delivered the inaugural address.
The school opened with one hundred and sixty students; and the promise given by its dawn was fulfilled in the years that followed, when it shed the light of an enlightening and refining influence over the surrounding country. A most interesting account of the dedication of the new and elegant building erected subsequent to the fire is given by the press. We quote a few extracts :
"On Wednesday, August 24. was consummated in Adams' the great public enterprise of the village and town. Its beginning and progress have been signalized by great liberality, clear foresight, excellent taste and judgment, and untiring energy.

"The old institute building having been burnt some time ago, it was resolved to build a new one, and part of the means for the purpose was at hand. A commanding site was selected, a plan drafted with careful deliberation, and the structure commenced. The design was purposely for something superior and costly, — something not easy to excel as an educational institute. It was rightly believed that a way would be found to complete it when the money in possession should be exhausted. The work at length had to be stopped. Estimates called for two thousand five hundred dollars more, and how should it be raised?"
Finally, after efforts in other directions, General Hungerford offered to double whatever sum might be raised, pledges were soon gained for fifteen thousand dollars, which, with the founder's generous offer, made thirty thousand dollars ; this, combined with the amount in the treasury, gave funds for a one hundred thousand dollar building. The elegant stone and brick building of to-day, with its admirable conveniences and great beauty, is the result.
It is heated with steam and lighted by gas. Hot and cold water can be drawn in each story, and there are bathrooms for both the gentleman's and ladies' divisions. In the library and main hall, etc., is beautiful inlaid flooring of white and dark wood alternating.
At the dedication Rev. S. S. H. Greeley was the speaker of the day. He was followed by citizens and invited guests. General Hungerford, owing to previous illness, took no part in the exercises, but, after loud and renewed applause, came out of the ante-room in response to a call of the audience. He simply bowed and retired.
Mr. Hungerford's military career dates back to the year 1835; when quite a young man he was commissioned aide-de-camp to the brigadier-general of the Fifty-fifth Brigade of Infantry. In 1853 he became captain of infantry in the Thirty-sixth Regiment, and brigadier-general of the Eighteenth Brigade of the Fourth Division of New York State Militia in 1859. In 1861, when the Rebellion broke out, General Hungerford, commanding the Sixteenth Brigade, and also commissioned to inspect volunteer companies, was loyal to his trust and untiring in his efforts to co-operate with the government. He won the grateful recognition of the state and of his fellow citizens at home.
Mr. Hungerford's political career was made by himself — a brief one, beyond his influence in connection with business and social relations, and his prompt action when it was needed as a citizen. He was by nature and education of the conservative school in politics. This fact, along with his general popularity, was the cause of his nomination to Congress by the Coalitionists of the Twentieth district in 1866, when an effort was made to defeat the ruling party by a combination of all those dissatisfied with its measures. Mr. Hungerford declined the nomination in a letter which was consistent with his principles, dignified and loyal, an honor to his head and heart.
But in no position has he been more honored and useful, although attracting less popular interest, than when president of the Jefferson County Bible Society, an office he held for many years.
In his domestic relations Mr. Hungerford has been most happy. He married Miss Ann Huntington, of Watertown, who is still the light of a home blessed with a son who gives promise of worthily bearing the ancestral name. Mr. Hungerford has always, liberally and wisely, we believe, sustained the cause of religion in the community, and freely aided the church and parish of which he is a member. Neither he nor his friends claim for him exemption from human frailties and mistakes ; but his fellow-citizens of the town and county in which his life has been so far spent, will give him a place among the greatest benefactors of both.
Orville Hungerford Family of Watertown, New York
(VI) Orville Hungerford. One of the most distinguished of the earlier settlers in the Black River country, Orville Hungerford's memory is held in honor for his lofty character marked with all the traits that distinguished the old-time gentleman, his broad intelligence and remarkable judgment, and his highly useful service in commercial life, and in community and state affairs.
Mr. Hungerford was a native of Connecticut, born in Farmington, October 29, 1790. In 1804, when he was fourteen years of age, he accompanied his father to Jefferson county, New York. His was a life of industry and thrifty habits from the beginning. He had none of the advantages of a liberal education, having only been privileged to attend the common schools of his neighborhood. In these, however, and by private study of such books as he could gain use of, he thoroughly grounded himself in the elementary branches of knowledge, and at the same time became so habituated to reading and observation that even as a young man he was liberally informed, and in mid-life his attainments would put to confusion many collegiates of the present day. Soon after his coming to the county he took employment in the store of Jabez Foster, at Burrville, which in 1808 was removed to Watertown. His duties began in menial tasks, but all were cheerfully performed, and he gave to his work such diligent interest and conscientious care that he was advanced from place to place until, after about seven years' service, and having attained his majority, he was received into partnership with his employer, under the firm name of Foster & Hungerford. Their business developed into the largest in all the region, the war of 1812 bringing to them a large governmental patronage in furnishing provisions and other supplies to the troops rendezvousing at Sacketts Harbor. In 1815 Mr. Hungerford, then twenty-five years of age, engaged in mercantile business upon his own account, and he continued in it with much success until 1842.
Mr. Hungerford abandoned mercantile pursuits in order to enter upon a career of larger usefulness. He was a principal factor in promoting the construction of the railroad from Rome to Cape Vincent, the most important undertaking of that day, and the consummation of which enterprise contributed greatly to the development of the entire region in agricultural and industrial lines. Mr. Hungerford's success was not attained without great labor, patience and perseverance. At times the obstacles in his way appeared to be insurmountable, but his hopefulness and courage overbore all weariness and discouragement. He was elected first president of the railroad company, and held the position until his death. He was early identified with the Jefferson County Bank, was for many years a member of its directorate, and for a number of years previous to his death he was president. It is not too much to say that this institution, with its long record of honorable and successful management, owed much to his personality. In this, as in all else in which he engaged, he was conservative yet enterprising, gifted with a prescience which was little less than remarkable, and unalterably honest to the last detail. He possessed the entire confidence of whatever body with which he was associated, and it seemed a matter of course that they should place him in the position of leader and follow to the fullest whatever pol-icy he might recommend.
A Democrat in politics, Mr. Hungerford was, without his seeking it, conceded a position of leadership in his party, and was elected to congress in 1842, and re-elected in 1844. His conduct in that body was most praiseworthy. At the first session of his first term he was appointed on the committees on Revolutionary pensions and on accounts, two of the most important committees of that day, and his excellent abilities found recognition in his appointment to the chairmanship of the committee on ways and means in his second term. In the latter position he displayed to the best advantage his business sagacity and his courage in maintaining principles and policies which met the approval of his conscience. Having introduced into congress, as coming from his committee, what came to be known as the distinctively protective tariff of 1846, he aroused the antagonism of his southern colleagues in congress. They, desiring to secure the marketing abroad of the southern cotton product and to import free of duty the goods into which they were manufactured, were inimical to Mr. Hungerford's bill, and used every influence to prevail upon him to modify its provisions to meet their desires. To this time they had been able to control the northern congressmen, but Mr. Hungerford was proof against their blandishments, their promises and their threats. He was even tendered the vice-presidential nomination if he would recede from his position, and modify his bill to suit southern requirements, but he was resolute, and his measure was enacted almost exactly as he had reported it. The southern leaders resented his heedlessness of their wishes, at first by less courteousness of manner, and later by withdrawing from him entirely. His modesty and peacefulness of disposition would not permit him to resent their conduct, but his subsequent indifference to public honors is, probably, ascribable to his experiences during this period. It is certain that had he desired it, and exerted himself to the purpose, he could have been made either governor or senator.
Mr. Hungerford's characteristics have been epitomized by a former writer (Mr. John A. Haddock) as combining all those excellencies which made Silas Wright, William L. Marcy and Thomas H. Benton famous, and he has been pronounced their equal in suavity, commanding presence, knowledge of parliamentary law, sympathy for the country's toilers, and regard for the public weal. To descant upon what spirit he would have displayed, what power he would have wielded, had he lived to the civil war period, would offer a fruitful field. Certain it is that his intense patriotism and his knowledge of the character and desires of southern politicians would have made him not only a stanch, but aggressive friend of the Union.
Until his last days Mr. Hungerford exerted his influence for the best interests of his community and county. His benefactions to institutions of learning and to organized charities were munificent, and many such received liberal endowments from his generosity. He took great interest in the Jefferson County Agricultural Society and in the Jefferson County Bible Society, and was for several years president of that last named. He was one of the largest contributors to the building fund of the First Presbyterian church, whose house of worship was thus made possible.
Mr. Hungerford died April 6, 1851, after a brief illness, in his sixty-first year. The sad event was a public calamity, and meetings of the citizens of Watertown, of the officials of the Jefferson County Bank, of the railroad company, and of the various associations in which he had held membership, were held, to testify to their sorrow in his loss and to pay tribute to his memory. At the funeral service his pastor said:
"On account of his influence, and the important trusts which had been confided to his hands, being in the full maturity of his strength, his judgment ripened by experience and years, and his natural force unabated, I know of no one in the community whose death would have been regarded as so great a calamity as his. The assembling of this great congregation, as a tribute of respect to his memory, shows how he was estimated. A prince has fallen in the midst of us."
Mr. Hungerford was married, October 13, 1813, to Miss Betsy P. Stanley, daughter of George and Hannah (Porter) Stanley. She was born March 27, 1786, at Wethersfield, Connecticut, and died September 17, 1861, having survived her husband a few months more than ten years. She was a woman of beautiful character and disposition, and an efficient co-laborer with her revered husband in all his benevolent works.
Six children were given to Orville and Betsy P. (Stanley) Hungerford.
Mary S. Hungerford, the eldest, became the wife of Adriel Ely, and died in Watertown.
Marcus Hungerford died here, leaving four children, of whom two survive, namely:

Helen H. Hungerford, Mrs. George W. Mann, of Nyack, New York.
Jennie A. Hungerford, wife of Mr. Quesada, of New York city.

Martha B. Hungerford was the wife of Isaac Covert, of New York city and Port Washington, New York, and left no issue.
Richard E. Hungerford died in Watertown.
Frances Hungerford died, unmarried, in Watertown, where Orville passed his life.
Grace Hungerford is Mrs. George Seiple, of Watertown.
Source: Oakes, Rensselaer Allston, 1835-1904, [from old catalog] ed; Lewis publishing co., Chicago, pub. [from old catalog]. Genealogical and family history of the county of Jefferson, New York, p. 23-36. New York, Chicago: The Lewis publishing company. 1905.