When counties were established in New York State in 1683, the present Washington County was part of Albany County. This was an enormous county, including the northern part of New York State as well as all of the present state of Vermont and, in theory, extending westward to the Pacific Ocean. This county was reduced in size on July 3, 1766 by the creation of Cumberland County, and further on March 16, 1770 by the creation of Gloucester County, both containing territory now in Vermont. On March 12, 1772, what was left of Albany County was split into three parts, one remaining under the name Albany County. The other two were called Tryon County (later renamed Montgomery County) and Charlotte County. In 1784, Charlotte County was renamed Washington County in honor of George Washington, the American Revolutionary War general and later President of the United States of America.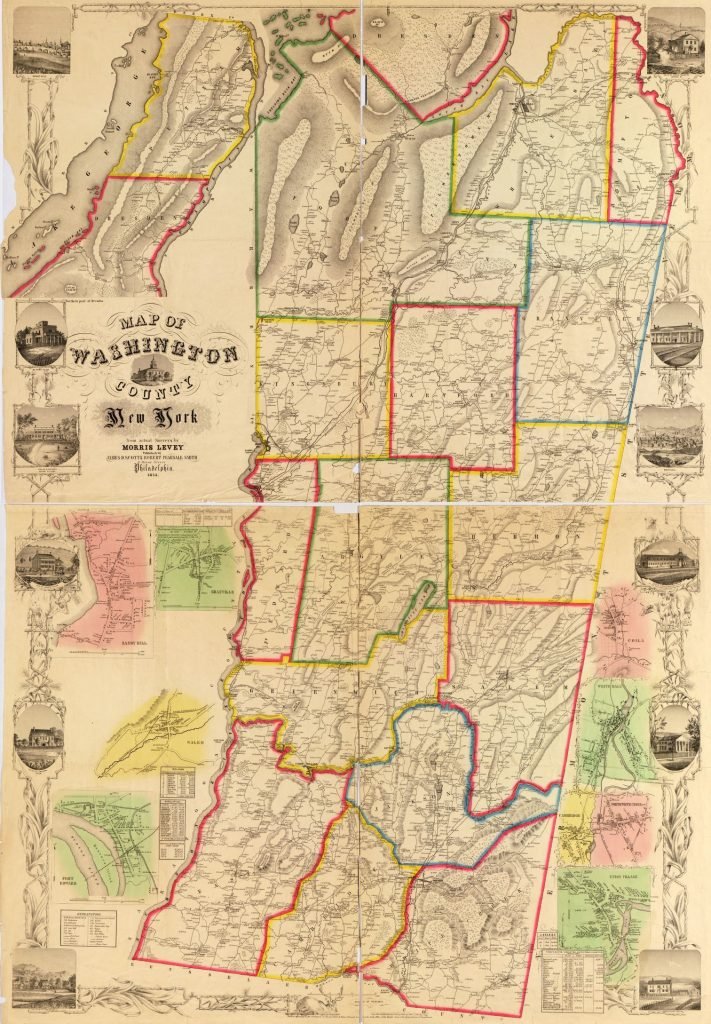 Washington County New York Genealogy is part of the New York History and Genealogy Project. My name is Dennis Partridge and I am the county coordinator. If you have information about this county you would like to place online, then please contact me using the contact form on this website. The American History & Genealogy Project (AHGP) is a group of like-minded individuals committed to providing free access to American genealogical and historical information online. Organized by locations, volunteers host states, counties, and sometimes town or city websites specializing in their areas of interest. Come join us today!
Townships of Washington County New York
Argyle, Cambridge, Dresden, Easton, Fort Ann, Fort Edward, Granville, Greenwich, Hampton, Hartford, Hebron, Jackson, Kingsbury, Putnam, Salem, White Creek, Whitehall
Villages: Argyle, Cambridge, Fort Ann, Fort Edward, Granville, Greenwich, Hudson Falls, Whitehall
Hamlets: East Greenwich, East Lake George, Goose Island, Huletts Landing, Kattskill Bay, Salem, Shushan
Bible Records of Washington County New York
Offline Resources for Bible Records
Miscellaneous Records of Washington County New York
Collected & arranged by Sue E. Wade. Note on front lining paper, "Many lists furnished by Miss Jennie M. Patten". This manuscript is only available from the Family History Center at Salt Lake, Utah.

Burdick family bible
Darrow family bible
Gilchrist family record
Harsha family bible
Taylor family bible
Biographies of Washington County New York
Cemeteries in Washington County New York
Cemeteries in Washington County New York
These are known cemetery transcriptions and gravestone photos of Washington County New York. Because of the proximity of Washington County to some towns in Vermont, the transcriptions for those are included here as well.
Census Records for Washington County New York
Washington County New York Census Records
The first census specific to Washington County New York occurred in 17990. From 1890-1840 only the heads of household were indexed by name, along with the number of other members of the household, their sex and a range of ages which varied between each census. From 1850 onward you are able to find all members of a family listed along with their age given at the time of the census.
Church Records for Washington County NY
Baptisms of Reverend Archibald White, 1789-1805
Archibald White was a circuit minister for the Presbyterian Church and early in his career traveled to Virginia, Maryland, North & South Carolina and parts of Pennsylvania in his quest to deliver the Good news. In his official capacity of clergyman he would often baptize those requesting it. In the spring of 1793, Rev. White moved to Washington County, New York where he also performed numerous baptisms. The following are from his own journal, and record his baptisms over a 15 year period.
Membership List of the Fort Miller Reformed Church Records, 1822 -1909
Compiled by the D.A.R of New York State 1950. Copied by Loretta Bates, Deputy Historian Washington County, New York; October 2011
Register of marriages: Coila, Cambridge, Salem 1791-1852
Celebrated by John Dunlop, Minister of the Gospel Original documents copied from the photostat of the Coila Church records in the State Library.
Centennial celebration of the United Presbyterian Church, 1797-1897
Salem, Washington County NY, November 9th, 1897.
Sketches of the life and character of the Rev. Lemuel Haynes, A.M.
For many years pastor of a church in Rutland, Vt., and late in Granville, New York
Offline Resources for Church Records
Miscellaneous Records of Washington County New York
Collected & arranged by Sue E. Wade. Note on front lining paper, "Many lists furnished by Miss Jennie M. Patten". This manuscript is only available from the Family History Center at Salt Lake, Utah.

Session book of the 1st Presbyterian Congregation in the town of Argyle, N.Y.
Marriage records, list of Elders, dismissals from, South Argyle U.P. Church
Register of Argyle U.P. Church members at the beginning of Rev. Scoullers book, 1852
Pastorate of Rev. Dr. M. Ure
Record book of the Argyle U.P. Church during pastorate of Rev. Scouler, 1856-1862
Dates of death of ruling Elders in the Salem U.P. Church

Records of Rev. Uriah Marvin While, 1848-1855
Pastor of the Reformed Dutch Churches of Union Village, Washington County, NY, 1848-1855, and Nyack, Rockland County, NY. Includes marriage, baptism, funeral, and communicant records for Union Village from 1848-1855. Also includes marriage, baptism, funeral, and communicant records for Nyack from 1860-1870.

This manuscript has been filmed twice, and as such, you can find it on two different microfilms available for loan to your local FHC. Check the contents out for each in the catalog to see which is the better copy for you. They were filmed with other items on the same roll.
Court Records of Washington County New York
Directories of Washington County New York
Offline Resources for Directories of Washington County
1931 Manning's Granville, Whitehall (New York) Fair Haven and Poultney (Vermont) directory
Including Pawlet, Rupert, Hubbardton, Castleton, West Haven and Benson, Vt., and Hampton, N.Y. for the year beginning February, 1931. Containing general directories of citizens, classified directories, street directories, a record of the town governments, societies, churches, etc., county, state, and U.S. governments, etc.
Genealogical and Historical Societies of Washington County, NY
Genealogy of Washington County New York
Offline Resources for Genealogy
The Fitch gazetteer
An annotated index to Dr. Asa Fitch's Manuscript History of Washington County, New York. Over three decades, from 1847 to 1878, Dr. Asa Fitch of New York state collected a series of articles towards a history and genealogy of Washington County and the surrounding region, intended to discern "the date of the first settlement of the towns and from whence the settlers came." This manuscript, part of the collection of the New York Genealogical and Biographical Society, has previously been available only on microfilm, but its contents have now been indexed and compiled here into an annotated, alphabetical list by subject, using the chronological form of the original manuscript. In collecting his data, Dr. Fitch combined personal interviews with the oldest settlers of the region and their descendants with primary source material including family records, unrecorded deeds, wills, cemetery records, early court proceedings and newspapers, and unpublished manuscripts, most of these prior to 1850. His initial articles represent some of the earliest ethnographic documentation of events relating to the first settlement of this region by the Scots-Irish and settlers from Connecticut, Massachusetts and Rhode Island. Included in these personal interviews were eyewitness accounts from individuals who were the participants, or descendants of participants, in the border disputes with the Hampshire grant lands that became the state of Vermont, and the pivotal events of the Burgoyne Campaign during the Revolutionary War. The numerous genealogical entries and family records featured in this manuscript trace the growth of the original families who arrived in the 1760s and the New England settlers who arrived just prior to the Revolutionary War, attempting to locate their places of origin, and carrying their descent into the 3rd, 4th and sometimes 5th generations.
They were here too
Genealogies of the owners of the inn at Easton Corners and related families of southern Washington County and environs, state of New York
v. 1. French, Dutch, English, and Colonial claims, 1609-1777; Washington County, 1784; Easton Township, 1789; Earliest settlers – the Dutch along the Hudson, the Nantucket Friends; First Post Office, North Easton, 1804; Starbuck, Swain, Coffin, Worth, and other Quakers the Dutch DeRidders, Abeels, and Beckers; the Van Buren Ferry, later Pierces; Marshall, Norton, Hastings Ownership, 1799-1839; Wallace, Anthony, Slade families on Peter Becker's east bank farm; Becker origins with Jan to New Netherlands, 1635
v. 2. The Becker wives: the Dutch families of Van Buren, Van Schaick, De Ridder, Van den Berg, Eckerson, Van der Poel, Van der Zee, etc.; the Colla Scots of Small, Lourie, Beveridge; the Rhode Island Thomas, etc.; Lewis Taber, the Inn owner, 1845-51; Martin Stover, Jr., innkeeper 1846-48; North Easton and the Greenwich community; Taber, Cornell, Slocum, Briggs, Cundall and other Quakers at the Inn; the Stover family of Tomhannock, Pittstown, including some detail of Drake, Aiken, etc.
v. 3. Other Quaker families who came to Easton from the Old Dutchess in the influx just before the Battles of Saratoga (Gifford, Hoag, Robinson, Allen, Hall, Barker, etc.) and families of other denominations who came from New England immediately following close of the Revolutionary War (Bulkeley-Buckley, Batty, Sherman).

You can get the microfilm on loan at a local FHC.
FamilySearch Microfilm Order. Not certain if microfilm only contains vol 1-2 or also includes 3 by their description.
History of Washington County New York
Washington County NY Poor House Records 1855-1860
The following records were found at the Washington County, NY Archives on a microfilm of Washington County Poor House records. They were "hidden" among the ledger pages of the original account books.
Washington County, New York
Excerpt from: historical collections of the State of New York containing a general collection of the most interesting facts, traditions, biographical sketches, anecdotes, &c. relating to its history and antiquities with geographical descriptions of every township in the state.

Since this book is taken from an original source that is available online, we merely refer you to the original:

History and biography of Washington county and the town of Queensbury, New York
Imperfect: 2 part. (p. 237-238 and 299-300) wanting
History of Washington Co., New York, 1878
With illustrations and biographical sketches of some of its prominent men and pioneers.
Washington county, New York: its history to the close of the nineteenth century, 1901
History of Washington County, N.Y. $$
Gibson, James. History of Washington County, N.Y. : the Gibson papers. unknown: Washington County Historical Society, 1991. Vol. 1 is a reprint of original published: Fort Edward, N.Y.: Honeywood Press, 1932. 298 p. Vols. 2-4 are reprints of original published: [S.l.] : Washington County Historical Society, 1954-56. 3 v. Compiled from articles originally written by James Gibson of Salem, New York, and published in the Salem, New York Review-Press between 1887 and 1894. Genealogies of the following families included: Abraham Turner Family, Atwood Family, Carswell Family, Dodd Family, Doty Family, Fowler Family, McClaughry Family, McCleary Family, McCraken Family, McCrea Family, McKillop Family, Merriam Family of Salem, Morey Family of Salem, Sherman Family, Smith Family, Tomb Family, Turner Family, Tyrell Family, Graves and graveyards.
Sons of Temperance, Horton Division No. 59 (Greenwich, NY) Minutes – 1868-1870
Handwritten notebook of the minutes for the Sons of Temperance organization in Grennwich NY for the years of 1868-1870.
The Goodspeed Collection
Containing over 50 boxes of information collected by a local genealogist.
Town Histories of Washington County New York
Offline Resources for the History of Washington County NY
From then till now: history and tales of the Adirondack foothills
Consists chiefly of history and biography of Washington County, New York, but includes items from various localities in northeastern New York. Out of print. First published in 1978 and then reprinted by the Washington County NY Historical Society in 1980.

Find it in a Library

You can search the actual manuscript online, but not view it
You can get the microfiche on loan at a local FHC
This manuscript can often be found on Amazon for sale as a used book.

History of Washington County, N.Y., 1932
Compiled by William Henry Hill. Original published: Fort Edward, N.Y.: Honeywood Press, 1932. 298 p.

You can get the microfilm on loan at a local FHC

Their own voices: oral accounts of early settlers in Washington County, New York
Beginning in the 1840s and continuing until his death, Dr. Asa Fitch (1809-1878) of Salem, NY, interviewed elderly neighbors, questioning them about the time of first European settlement, the Revolutionary War, and the first decades of the 19th century. Fitch was more than just a medical doctor. By the 1850s, he ranked as a world-famed entomologist, with important discoveries about insect life to his credit. He turned his precise, scientific mindset to good account in his oral history work. He seems to have functioned almost like a human tape recorder, transcribing and preserving vivid, colloquial statements from a wide range of individuals—most not fully literate people (that is, people who could read their Bible and sign their names but not write fluent accounts of the incidents of their lives.) Jeanne Winston Adler's excerpts from Fitch's manuscript ("Notes for a History of Washington County, NY," NY Genealogical & Biographical Soc., NYC; and elsewhere on microfilm) present the liveliest "voices" collected by the 19th-century scholar. Some portions of Adler's "Their Own Voices" (first published in 1983) were re-published in her "In the Path of War: Children of the American Revolution Tell Their Stories" (Cobblestone Publishing, 1998). A facsimile reprint of the 1983 book, containing all material originally excerpted from Fitch, is now offered here.
Warren County, Washington County: compiled from historical collections of the state of New York and other sources
Reprints of various articles published at various times and by various publishers. Authors: Barbara Rebok, John Warner Barber, and Henry Howe. I believe the John Warner Barber and Henry Howe "articles" may simply be a reprint of their information on Washington County found in the Historical collections of the state of New York.
I remember Argyle: a book of memories
Color illustrated wraps, 236 pages, extensively illustrated with black-and-white photographs, includes information on Argyle, South Argyle, Dutchtown and Cossayuna, North Argyle, The Hook, schools, personal reminiscences, events and celebrations, roads, World War II, and more.
Land Records of Washington County NY
The Argyle Patent and accompanying documents: with notes on Washington County families
This manuscript was reprinted from the appendix of the author's "History of the Somonauk United Presbyterian church near Sandwich, De Kalb County, Illinois: with ancestral lines of the early members" published in Chicago in 1928. While we don't have online access to this manuscript we do have online access to the original. The appendix covering the Argyle Patent can be found on pages 297-346. The Washington County Families can be found on pages 347-358: Clark, Gillespie, Livingston, McNaughton, and Savage.
Record of Mortgages, Washington County, New York 1773-1881
FamilySearch has placed online the Washington County, New York mortgage records in the form of images, without an index, in their New York Land Records, 1630-1975 collection. Land records usually contain the following information: Names of interested parties; Date of transaction; Legal description of the property; Monies exchanged; Details of the transaction; Names of witnesses.
Libraries of Washington County, New York
The following libraries do not represent all of the libraries in Washington County, New York, but rather those counties which have allotted special space in their library for historical collections unique to their community, and they have made those collections accessible to the public.
Maps and Gazetteers of Washington County, New York
Situated in the e. toward the n. part of the state, and contains 807 sq. miles. Hudson r. bounds it on the w., Lake George on the n. w., and the s. part of Lake Champlain partly on the e. The surface is hilly on the n., undulating on the s.; soil, generally warm and productive. Watered by Hoosick and Battenkill rs., flowing into Hudson r., and Pawlet and Poultney rs. and Wood cr., flowing into Lake Champlain. The Champlain canal passes through the county, terminating n. at Whitehall on the lake. Capitals, Sandy Hill and Salem. There were in 1840, neat cattle 39,159, sheep 210,610, swine 27,668; wheat 49,189 bush. produced, rye 136,510, Indian corn 297,405, buckwheat 32,642, barley 9,569, oats 448,064, potatoes 851,545, sugar 4,246 pounds; 140 stores, cap. $427,900; 1 furnace, 3 forges, 15 fulling m., 13 woollen fac., 2 cotton fac. 3,144 sp., 19 tanneries, 1 powder m., 2 potteries, 2 flouring m., 31 grist m., 93 saw m., 4 printing offices, 4 weekly newspapers. Cap. in manufac. $257,7i8. 10 acad. 482 students, 205 schools 7,526 scholars. Pop. 41,080. 1)Daniel Haskel, A. M and J. Calvin Smith. A Complete Descriptive And Statistical Gazetteer Of The United States Of America. Published By Sherman & Smith, 1843
Military Records of Washington County, New York
Historical Newspapers in Jefferson County NY
The pages of a newspaper preserve the flavor of a time as no other chronicle can. Along with reports of key historical events, one can find smaller, though no less important items in newspapers: vital statistics (records of marriages and deaths which can function as substitutes for missing civil or religious registrations), biographical sketches, legal notices, offers of rewards for runaway slaves, public announcements, advertisements, and shipping information. This is history captured as it happened.
Record Extractions from Historic Newspapers
Digital Copies of Historical Newspapers
Old Fulton NY Newspapers
Newsbank
Cambridge
A Guide to Newspaper Research at the New-York Historical Society
The New-York Historical Society holds the fourth largest collection of American newspapers published before 1820: 634 titles by one estimate. To that number must be added the myriad mid-19th to early-20th century New York papers, as well as those published in outlying frontiers of the expanding nation, bringing the total number of titles held close to 10,000. While the collection is strongest in newspapers from New York City and State, Massachusetts and Pennsylvania, it encompasses all 50 states, as well as the District of Columbia.
Yearbooks of Washington County New York
Vital Records of Washington County New York
Washington County New York Genealogy Help
Offline Resources for Genealogy Help
Washington County, New York, directory of research
Includes genealogical sources in Washington County, New York such as Municipal Center, town historians, county libraries, historical societies, genealogical societies, county historians, and name and addresses of researchers. Published in 1996.

You can get the microfilm on loan at a local FHC
The following are known cemetery transcriptions and gravestone photos of Washington County New York. Because of the proximity of Washington County to some towns in Vermont, the transcriptions for those are included below as well. Albert Pierce Farm Cemetery, Easton Albert Pierce Farm Cemetery Allen Family Cemetery Allen Family Cemetery Allen Memorial Stone Allen Memorial Stone Alpheus Barber Farm Cemetery Alpheus Barber Farm Cemetery Andrew K. Richards Farm Cemetery Andrew K. Richards Farm Cemetery Argyle Cemeteries Prominent Argyle, Salem, and Hebron families: graves and graveyards of Washington County, New YorkViewable only from within an affiliated FHC center. Argyle Cemetery, Argyle…